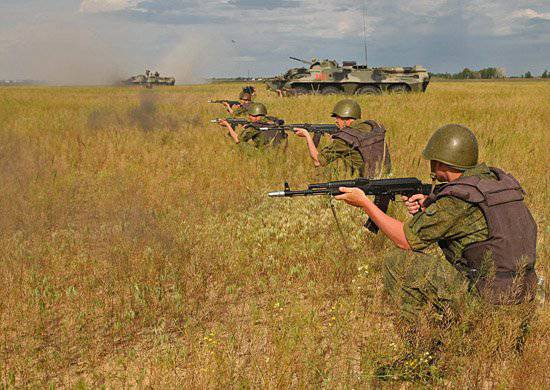 Soldiers of the Russian 201 military base stationed in Tajikistan learn the secrets of combat skills in a new modular system. It looks like this: during the week one unit is trained in the classrooms; the second is on tactical fields and orderly material base; the third is on the training complexes of landfills without diversion of military personnel into outfits. Every Friday, units change places of training.
According to the new schedule, at least 50% of the training sessions in fire preparation and driving of combat vehicles are conducted at night.
The base command increased the amount of ammunition allocated for combat training of personnel. Only in June, units spent almost 83,5 thousand cartridges, including idle - over 14 thousand.
Compared to the last academic year, the consumption of fuel and fuel materials for military equipment was increased by 10%. For a month, 40 tons of gasoline and 230 tons of diesel fuel have already been consumed at the landfills.
Considering the hot weather established in the south of Tajikistan, when the temperature reaches + 43 degrees Celsius at noon, the command increased the lunch break time for the military personnel to 3 hours. In the classes held under the supervision of doctors, more breaks are allocated for the rest of military personnel, and at the sites there is organized an enhanced diet, drinking water is regularly delivered.