The Dutch Ministry of Defense decided to install Israeli-made active protection systems on armored vehicles. Thus, the Netherlands became the first European country and the first from NATO to massively use the KAZ Iron Fist to protect their armored vehicles.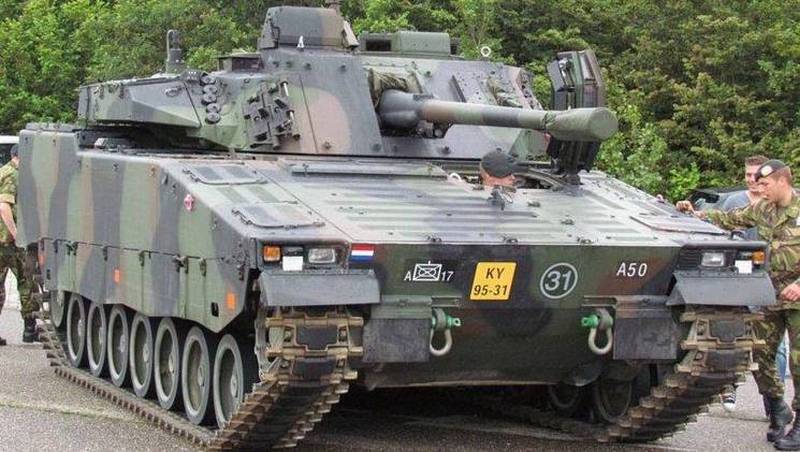 As it became known from the message of the portal ukdefencejournal.org.uk, the Ministry of Defense of the Netherlands approved further work on the program for the installation of Israeli-made Iron Fist active protection systems on the CV9035 BMP. The program has been implemented by the military department together with BAE Systems since 2016, when the first contract was signed for the installation and testing of the Iron Fist active protection system ("Iron Fist") on CV9035 armored vehicles. As part of the agreement, the company installed an active protection complex on one BMP for testing, following which a serial installation of KAZ was planned in 2018. However, last year it was decided to install KAZ on five more BMPs, and summing up the final results of the tests was postponed to this year.
According to the test results, the Israeli active protection systems have proven themselves properly. The new systems will be equipped with 150 CV9035 infantry fighting vehicles.
The aforementioned Iron Fist system was developed by IMI specialists in 2006 to protect heavy Namer infantry fighting vehicles. Due to its modularity, it was then used on other types of combat vehicles.
According to data from open sources, Iron Fist includes several protection subsystems - it includes: an electronic warfare module for jamming radio-controlled projectiles; smoke grenade shooting system for camouflage; a system for detecting and tracking anti-tank missiles and grenades, capable of calculating the trajectory of an ammunition flight in a split second.
Note that the KAZ Iron Fist was chosen by the American army to be installed on the Bradley BMP. Also, this KAZ won the tender of the Australian army and now it has reached Europe. In Israel itself, the Iron Fist has been chosen to protect Eitan wheeled armored personnel carriers and D9 bulldozers.