In China, the project launched the main universal landing ship of the project type 075. The ceremony was held on the morning of September 25 of 2019 in Shanghai at the Chinese shipbuilding plant Hudong-Zhonghua Shipyard. The UDC built has not yet received a name.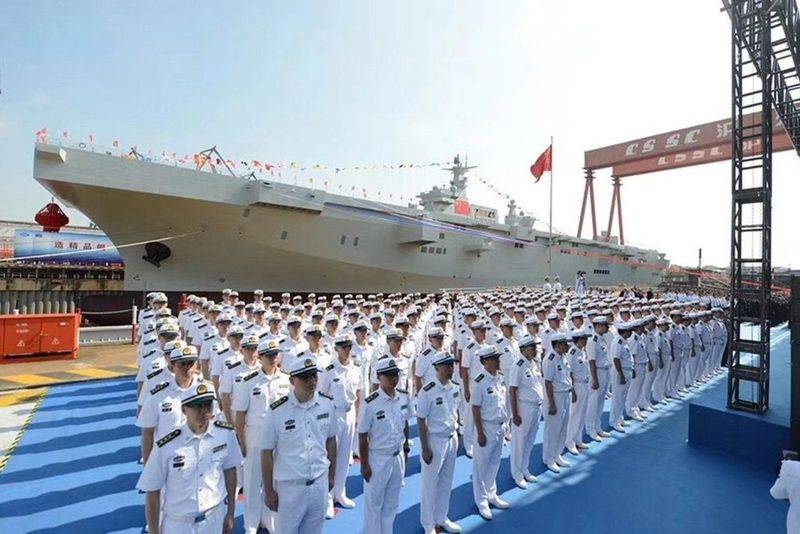 It is reported that on 25 of September this year in Shanghai, water began to fill the dry construction dock for launching, followed by the conclusion to the construction wall of the main universal landing ship of the 075 project, being built in the interests of the PLA Navy. UDC is being built on a project completely developed by Chinese designers. The laying of the ship was made in 2016, the introduction of the Navy is scheduled for next year. In the near future, completion work will be carried out on the ship, after which mooring and sea trials are planned.
The UDK of the 075 project under construction is a rather large ship comparable in size to its class in the UDC of the US Navy. According to available information, the length of the ships of the 075 project ranges from 235 to 250 m (there are no exact data), and the total displacement is 36 thousand tons (data from Chinese sources). American UDCs of the same class like Tarawa, Wasp and America have a length of 254-257 meters and a total displacement from 40 to 46 thousand tons. More information on Chinese UDC is missing.
Earlier it was reported that at the shipyard in Shanghai, the construction of two, and according to other sources, three universal landing ships of the project type 075.