Motovilikhinskiye Zavody (MZ) received the first major military order after bankruptcy. As he writes
"Businessman"
, SKB CJSC, which is part of the Motovilikhinskiye Zavody, concluded a contract with the Ministry of Defense for the supply of the Tornado-S multiple launch rocket system (MLRS) to the armed forces.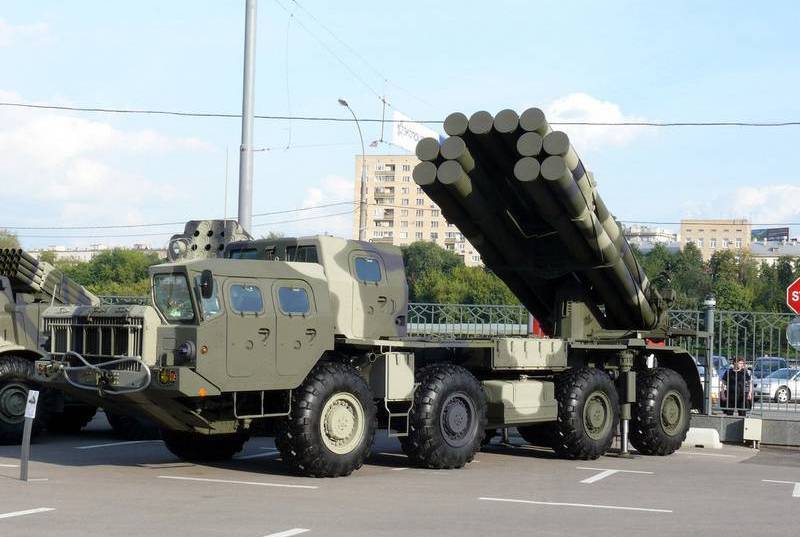 According to the publication, SKB CJSC (Special Design Bureau), which is responsible for the military component in the structure of Motovilikhinskiye Zavody, concluded a contract with the Ministry of Defense for the supply of the Tornado-S MLRS batch. The contract data were not disclosed, according to available information, we can talk about 6-7 billion rubles. Under the terms of the contract, the Ministry of Health should manufacture and deliver to the armed forces a batch of combat and transport-loading vehicles of the Tornado-S MLRS complexes. The contract was signed in the summer, the equipment should be delivered during the 2020 year.
Motovilikhinskiye Zavody is the developer and the only manufacturer in Russia of combat and transport-loading vehicles from the composition of multiple launch rocket systems such as Grad, Smerch and their modified versions of Tornado-G and Tornado-S.
The Tornado-S was developed as a replacement for the Smerch MLRS. Like the Tornado, the Tornado-S has 12 guides for 300-mm rockets. A key feature of the new MLRS is the automated guidance and fire control system (ASUNO), which allows you to simultaneously control the firing of the division, automatically calculate target data and direct the guide packets in horizontal and vertical planes. Tornado-S missiles can be adjusted in flight, which significantly increased the accuracy of hitting a target at a distance of more than 100 km. The control adjustment system is located directly in the rocket.
"Tornado-S" - the most powerful and long-range MLRS. The missile range is up to 120 km. The developers promised to increase it to 200 km. The installation allows you to hit objects at the entire tactical depth of the battle formations of the enemy. Moreover, these systems can be quickly transferred from one section to another. Columns of wheeled vehicles are capable of making rolls up to 300-500 km per day. MLRS tests were held in the 2015 year.