The attention of Chinese reporters covering the strategic command post exercises (SKSHU) Center-2019, which took place in Russia, as it turns out, was also attracted by the actions of Russian engineering units. A report was published on Chinese TV that told about the fulfillment by the military personnel of the 45-th Engineer-Camouflage Regiment (IMP) as part of the exercises set by the command.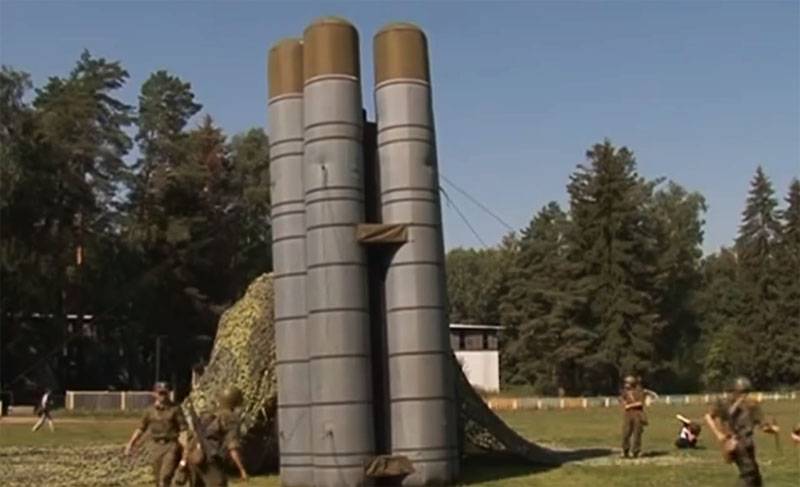 Chinese correspondents, commenting on the actions of Russian troops from the said unit, noted that "the Russians deployed a whole inflatable army at the Donguz training ground in the Orenburg region." It is noted that in addition to real military equipment, a large imitation of it appeared on the training ground.
From the report:
They used a whole inflatable army with an imitation of S-300 anti-aircraft missile systems,
tanks
T-72 and other military equipment. The arsenal of the 45th camouflage engineering regiment of the Russian Armed Forces also has Su-27 fighters, MiG-31 interceptors, Tochka-U missiles, radar stations - and all this is rubber, inflatable.
Chinese reporters noted that perhaps in vain the Chinese military did not use this method of misleading a potential adversary.
In particular, Chinese experts note that this is "a rather old type of camouflage of real military equipment":
The enemy's attention is distracted by the "column" of inflatable military equipment, and at that moment real anti-aircraft missile systems are ready to direct their missiles at his planes - and it's hard to figure out where the strike will come from.