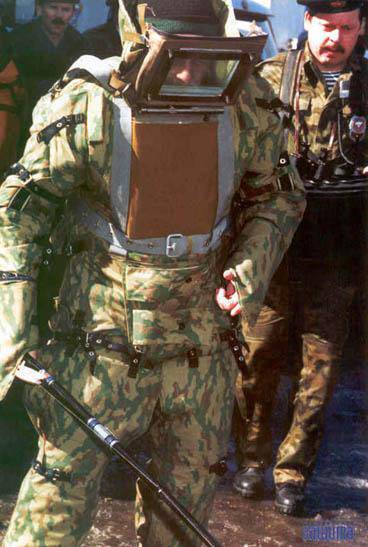 Of the many hundreds of professions that exist today on our home planet, the sapper profession is without any doubt one of the most nervous and dangerous. This is a purely male matter - a military one, and it is dealt with, respectively, by military people serving in the military construction and engineering troops. Depending on the assigned task, the functions of a sapper can be either purely peaceful, defensive or destructive. Today, we will talk a little about the features of equipment and weapons of sappers.
Any demining should be carried out in a special protective suit to protect against injury, in the event of a possible mine operation. Naturally, such a dress does not help from large charges, but with small fragments this tool is simply irreplaceable. As a rule, a protective suit consists of trousers, body armor, jacket, helmet, as well as various additional elements of armor. Wearing a special suit, the sapper must maintain mobility, which will allow him to freely perform all the necessary work.
Despite the rapid development of innovative technologies, the good old deminer shovel has not lost its relevance in our days and, most likely, will benefit more than one generation of "demolition workers". However, and pulse metal detector - This is the thing, without which it is impossible to imagine a modern sapper. Unlike its predecessors, the new models of metal detectors are much more sensitive and much less wrong.
All kinds of robots have already become a fairly common occurrence in ubiquitous life and sapper business was no exception here. Controlled by a sapper from a distance, small cyborgs equipped with wireless cameras and "arms" can defuse even the most complex bomb. There is nothing to say about the advantages of this method (which may be more valuable than human life), the disadvantages are also quite obvious - the very high cost of one such robot.
Therefore, the main high-tech "assistant" of the sapper in our country was and remains the metal detector. Unfortunately, here too much depends on the scale of financing, so basically our sappers use models that are far from all garrett ace 250 abilities.
There are many more special equipment used by sappers, however, we'll talk about it next time. We mention only one more faithful ally of the demolition man, and in combination with his four-legged friend - the dog. Yes, yes, dogs - sappers today are one of the most effective means to find mines.