At the UN General Assembly, Iran will present its plan for a peaceful settlement of the crisis in the Persian Gulf. As before
wrote
"Military Review", the country denies its participation in hostilities against Saudi Arabia, resulting in the worst crisis at the moment with relations between Tehran on the one hand and the United States, Saudi Arabia and their Middle Eastern allies on the other.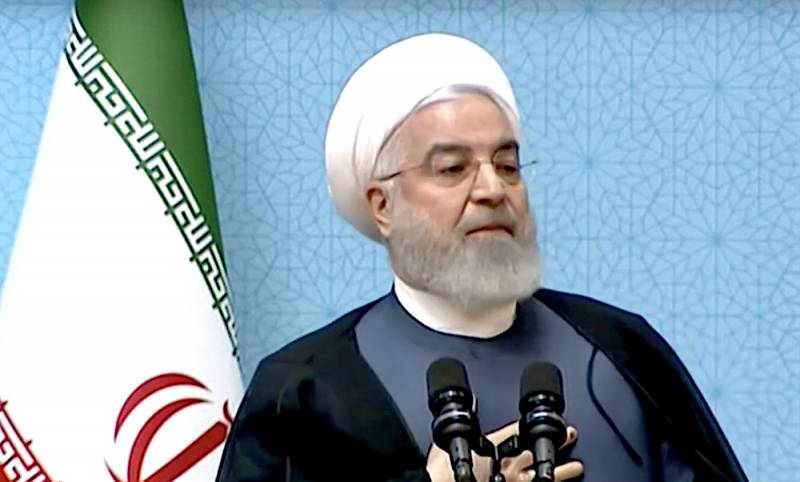 Iranian President Hassan Rouhani will present a plan for a peaceful settlement in the Persian Gulf in cooperation with other countries in the region. Presentation of the project will take place during the UN General Assembly, which will be held in New York this week. Information about the plan is available on the official website of the Iranian president.
Saudi Arabia and the United States accuse Iran of assaulting Saudi oil facilities on 14 September. The attack on Saudi Aramco's terminals is unprecedented in
stories
Middle Eastern kingdom attack on its objects. The situation is compounded by the fact that Riyadh is the world's largest oil exporter.
Iran, in turn, denies any involvement in the attack, for which the Yemeni Hussite movement took responsibility.
We will introduce the United Nations peace plan. Within the framework of it, the Islamic Republic of Iran, in cooperation with the countries of the region, intends to bring security to the countries of the Persian Gulf and the Oman Sea.
- quotes the words of the Iranian president his official website.
Details of the plan are not currently provided. The official news agency IRNA reported that Rouhani will leave for New York on Monday and return to Tehran on Thursday.
US sent troops to the region
US President Donald Trump on Friday approved the dispatch of US troops to strengthen the Saudi air defense and missile defense after the attacks on Saudi oil facilities. In response to these actions, Rouhani emphasized that the presence of foreign forces in the region creates an unsafe situation for oil production and shipping.
Saudi Arabia described the attacks on its targets as a test of whether there is a global will to maintain international order, and, in turn, announced its desire to form a united front against Tehran at the United Nations General Assembly.
We are not those who violate the boundaries of others, just as we will not allow anyone to violate our borders.
- said Rouhani at a ceremony dedicated to the anniversary of the outbreak of the Iran-Iraq war. At the same time, the head of the Navy of the Islamic Republic emphasized that Iran is ready to withstand any aggression.
During the statements, Iranian TV showed ballistic missiles, fast boats and warships. Tehran also showed the Bavar-373 air defense / missile defense system, which the Iranian media called the rival of the S-300 air defense system.