"Over the past five years, we have developed our own scenario, our ritual of celebrating Victory Day in World War II, close to the common European tradition. Unlike our neighbors, we do not suffer from color blindness and see the full color scheme of Her Majesty stories", - said Poroshenko.
Our "common" European happiness
Mr. Poroshenko (the outgoing president of Ukraine at that time) voiced quite interesting things (not invented by him) that it makes sense to discuss. In the end, no matter how we evaluate his personal and professional qualities, at that time he was primarily the president of Ukraine, that is, practically a professional politician (well, or should have been one) and his speech is an expression of a certain political position and a certain ideologies that exist regardless of Mr. Poroshenko himself.
And, as we all very well understand, this very policy and this same ideology are being developed far beyond the borders of Ukraine. So, regarding
pan-European tradition
. Everything turns out very funny here: the Third Reich was to some extent a kind of image, a "beta version" of the future European Union (this is with satellites and occupied territories). This, of course, if you carefully study history. Which is generally accessible and does not require special efforts for its comprehension.
Countries from Norway to Bulgaria and from Finland to Spain focused on Berlin and opposed the "Russian Bolsheviks." As it were, a united Europe already had a place to be, and this is not an empty phraseology at all. As is well known, Stalingrad alone cost Mr. Adolf Hitler much more than the capture of all of Europe. Europeans didn't want to
weapons
in the hands of defending their freedom. They didn't want at all.
And in general, even then (at the turn of the 30's and 40's), the unification of Europe (almost bloodless!) Took place. This is a kind of historical fact that few people like. Well, yes, different French and Serbian partisans tried to fight the Nazi hydra, but all this was not very convincing. The Reich could well have taken place (taking into account the rapid growth of the German army and industry), if not for the war with the USSR.
Yes, of course, even the Anglo-Saxons were actively fighting with Hitler (from a certain moment), as without them. That's just ... they could simply "not allow" to seize him Austria and Czechoslovakia, and indeed "give hands" even at the time of the occupation of the Rhine demilitarized zone. And all: there is no Third Reich. Recall: in the 30 years, the British Empire and the United States were great powers. USSR - it is not clear what. London and Washington had an order of magnitude more political and economic levers to influence the situation in Europe than Soviet Russia.
The USSR could make any (the most honest and courageous!) Statements; in Europe it was of little interest to anyone. For some reason, they sometimes try to transfer the political influence in Europe that the USSR received after the 1945 year to the 30 years, but, excuse me, this is simply absurd. In the 30 years of the USSR, the situation in Europe could have been very weakly affected. Unfortunately.
That is, if in the 30 years the USA, Britain and France (as winners in WWII) had a hell of a lot of opportunities to block and even destroy the Third Reich, then the USSR simply did not have such opportunities. Do not flatter yourself. Therefore, the "victory" of the USA and Britain over Hitler looks rather strange. Where have you been, gentlemen?
America is not Europe, which is logical. But the British consider themselves not quite "Europeans". A classic of the genre, the famous headline of British newspapers: "Fog is over the British Channel, the continent is isolated" (for some reason, they quote "over the English Channel", which is very strange). That is, for the British there is England, but there is a continent. And this is very clearly spelled out in British psychology. That is, Britain is Britain, Europe is Europe.
And so, the "pan-European tradition of celebrating Victory Day" sounds very strange. Almost all of continental Europe (the "fortress of Europe") fought "against Bolshevism and the Anglo-Saxon plutocracy." This is what I quote from German newspapers of that era. Well, it's clear that both Russian Bolshevism and the English-speaking plutocracy were declared branches of the same "world Zionism". Already interested? Of course, it is interesting, but we will not develop this burning topic here.
What is such a "pan-European Victory Day"? Who over whom? No, in the framework of propaganda, you can portray anything, but it will only work with "stubborn adherents." Any normal person will ask questions. Unpleasant questions.
The collapse of the USSR and the complete rewriting of history
But it turned out interesting after 1991: the unification of Europe began, and if at first France and Germany played the role of a kind of "duopoly", then the French were clearly pushed into the background. Because - Germany, which unleashed two world wars, in which Adolf Hitler "steered the process". Therefore, very many had to "urgently change shoes in the air" and invent something truly fantastic.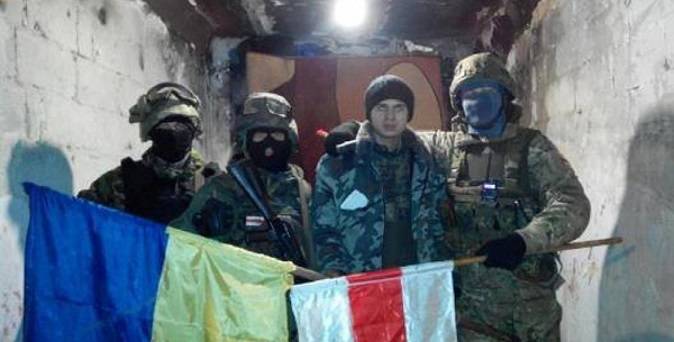 By the way, a very characteristic example is how to make white from black and vice versa. After 1991, it was decided in Europe (and not only) that Russia is very bad, and Germany is good (albeit not like the United States). And the funniest and most interesting began. The rewriting of history began. I highly and highly recommend reading the Ukrainian and Belarusian press on this topic (it's better to keep silent about the Polish and Baltic presses). On the topic of WWII and victory in it read.
You will be truly surprised. In the sense - the possibilities of propaganda. How to make a girl out of a boy, and meat out of fish ... And the political need because it arose. And people had to adapt the Victory Day to realities in which Russia is the enemy and Germany is the friend. And something simply indescribable began. Some initial facts are taken, such as: there was a big war (it really was!), The population of Belarus and Ukraine suffered (really so!), The good guys won ... but who the good guys is is a separate issue.
The Polish press often wrote that since the "troops" of England and the United States were not "nearby," the Soviets liberated the country. There you go. But Poland is understandable (although Stalin gave them one-third of the modern German territory). Much more surprise in Russia was caused by the hostile reaction of the Belarusian authorities to the St. George ribbon. That is, it was just in Russia that caused shock and misunderstanding. The reaction of the authorities of the Republic of Belarus to the "Immortal Regiment" caused even greater misunderstanding. Which went everywhere: from Britain to Australia. No special problems.
Although, as we all perfectly understand, both in Britain and in Australia there is quite a place to have both its own history and its own memory. From ours is completely excellent, if that. But both in the USA and in Mexico (!) These same regiments passed. No questions. But in Polesie, the fraternal Belarusians had questions. What you want is a rewriting of history. No, of course, in Kiev - there is a junta. But there seems to be no junta in Minsk, but the reaction to the Immortal Regiment and the St. George ribbon is much the same.
What the hell is incense, something like this can be described. And it's "good" to be a Ukrainian politician - Russia is officially an "aggressor country" there. But Belarusian politicians have to portray some kind of "friendship". And they have to literally jump out of their pants, explaining themselves on this issue. Why Belarus is all so "pro-Russian", but a regiment and a ribbon are not needed there. Yes, because "a holy place never happens", and just in today's Belarus, as in today's Ukraine, this very "holy place" is already densely occupied. Yes, exactly, it is densely occupied with "European values". By the way, Belarusians are already beginning to slowly scare that Russia is not just an "aggressive empire", but also the most "homophobic" country in Europe. Which, of course, does not match the mentality of tolerant European Belarusians. And yes, for youth this is an argument.
Agree, if the "cynical Bandera" looks strange, generally celebrating something there on May 8-9 (in the sense of someone defeating someone), then the "main and last ally" looks just wild, long and confused explaining why Belarus needs / does not need a "ribbon and regiment". Take this event in Belarus with the massive use of this symbol, in Russia it would simply not be noticed. This is normal and natural. The trouble is that for Belarusians, a common understanding with the Russians of the Great Patriotic War with Russians is already
not
ok and
not
naturally.
Hitler's Euroschengen
The trouble is that in that very war, such "Schengen" countries as Germany and Italy, Croatia and Hungary, Finland and Romania, Spain and Bulgaria, fought against Soviet Russia in a single formation. If we take volunteers who "fought against Bolshevism", then the whole of the European Union is there, something like that. And somehow the story variant becomes very convenient when Stalin is just as "guilty" of the Second World War as Hitler, and indeed he almost started this very war himself.
But the Germans are generally good and democratic, and if it weren't for Hitler ... But the allies did a "shortcut" to Hitler, and in general everything became good in Europe. But not in Russia. You see, whether we like it or not, but in the core of modern Russia there are not oligarchs, Putin, oil or Shoigu, Buddhism or Orthodoxy, Yandex services or Turkish "visa-free". There is just 9 May.
Many do not like it. Because 9 of May is precisely that "basic element" on the basis of which the rest of the psychology and ideology of society is built. Victory in that war is just the "reference meter" from the "Chamber of Weights and Measures" and a zero reference point. In principle, even in Russia there were already scandals around the "victory" and "we can repeat it." That is, this very ideology and psychology of "winners in the Second World War" is not a trifle and not "on the side of the bow," as some people think for some reason.
Because it is impossible (absolutely impossible!) To combine the psychology of winners and the logic of European integration into a single whole. This is incompatible by definition, that's why Yeltsin didn't particularly celebrate the 50 anniversary of the Victory (somehow without pathos), that's why around this very historical date (75 years are coming soon! Three quarters of a century! It's like in the 1886-m stormy and with scandal discuss the Patriotic War of the 12 year ...) such passions boil.
After the Ukrainian "Maidan" (suddenly) the Victory and the St. George ribbon turned into some living symbols of modern Russia ("thanks" to the Neo-Bandera people). In the same way, Europe (the very Europe that followed Hitler east) unequivocally supported the junta and imposed sanctions against Russia. That is, "a choice has been made." All the talk that someone is dissatisfied with something there is a classic talk in favor of the poor. The "victorious Europeans" did not see any crime in the revival of Nazi ideology. Which, by and large, is not at all surprising given their history.
From their point of view, "the victory over Hitler Germany was ultimately won by democratic Germany", and Russia was on the side of the heat, and even occupied Eastern Europe for half a century, at least "for the money" today is so "profitable". And as for the Nazis in the Baltic states and Ukraine, so they (to paraphrase Goering's phrase) "decide for themselves who the Nazi is and who is not the Nazi."
Fault Line
That is, for example, Russia, of course, can fully return to the Council of Europe, but there will be little sense from this. We have too different understandings of WWII events in Europe. Well, and, as we know, in many European countries (along with Nazi), Soviet symbols are also prohibited. That is, people are smoothly led to the conclusion that these were "two totalitarian systems". What kind of "interaction and mutual understanding" can be talked about here, it is very difficult to understand. If for us Stalin and the Banner of Victory are central political symbols, and for them it is "something criminal" (like the modern Russian "regime"), then talking about "mutual understanding" is quite difficult. We cannot have "two separate ideologies" - one "for ourselves", the other "for export", this does not happen, at least in Russia.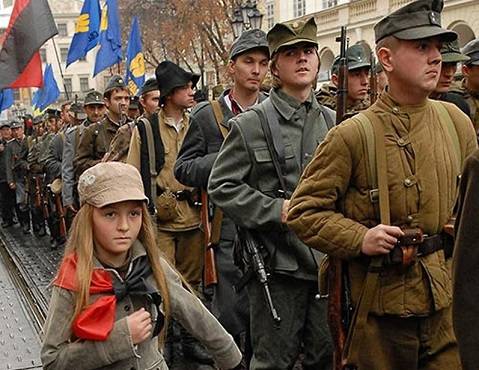 What "they" would like is just perfectly visible in the Baltic countries, Poland, Belarus and Ukraine (I think these countries can be put on a par). That is, a complete and dramatic rewriting of history, a full turn on 180 degrees in ideology and, as a result, some kind of action like: "Belarus remembers". Remember, sorry
that
? Bonaparte, who taught the Poles to win? In Ukraine, Mr. Poroshenko congratulated the UPA veterans (banned in the Russian Federation) and the Red Army with one phrase. Also quite European. In Poland (where the Germans quite committed genocide during the occupation), they demolish the monuments to Soviet soldiers-liberators.
This is something similar our European friends would like to see in Russia. That, as it were, and not for Nazism, no ... in no way what you! Although the Nazis are marching to themselves in Estonia or Latvia ... But in general, there seems to be a victory (pan-European!) And "memory" (what, excuse me?) And "undisguised pain", and "the first hour of the world", and blah blah -bla ... Once again: it's very interesting to look at what is happening in Minsk and Kiev (how history is rewritten there and how they "successfully connected" the Great Patriotic War, NATO and European values), and look at certain conflicts that have arisen in today's Russia around well-known media personalities and their categorical rejection of "victory".
The fact is that (in different proportions, of course) and in Ukraine, Belarus, and even in Russia a generation of "mankurts" with a completely "refreshed" consciousness has grown up, ready to respond positively to the flag as rainbow and negatively - for the flag is red. And yes, the only working version of "European integration" today lies precisely through complete and unconditional "mankurtization". This price will have to be paid to all those who desire European values. There is no other way. Latynina will not let you lie.