The newest frigate of the project 22350 "Admiral
fleet
Kasatonov "continues to undergo factory trials. During the next phase of tests, the ship carried out artillery fire at a naval firing range in the Baltic Sea. This was reported by the ZVO Baltic Fleet press service.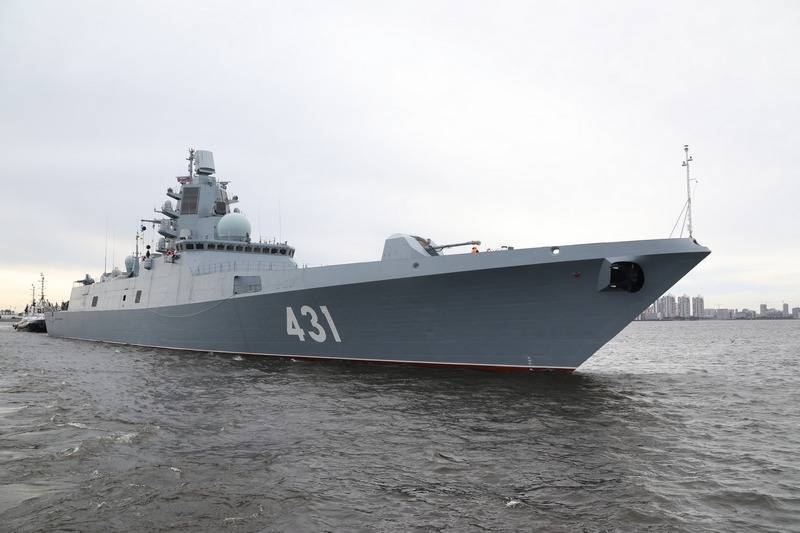 According to the report, the crew of the ship, together with representatives of the manufacturer, conducted test firing of the A-192M artillery mount and the Broadsword anti-aircraft missile and artillery complex. Earlier on Friday, the crew tested radio-technical weapons and radar systems of air defense systems.
Aviation
the enemy was represented by Ka-27 helicopters and Su-30SM, Su-27 and Su-24 aircraft of the BF naval aviation.
In the naval ranges of the Baltic Fleet, the crews of the ships, together with industry representatives, fired from the 130 mm A-192M artillery and 30 mm Palash anti-aircraft missile and artillery complex. Naval artillery fire was carried out on a sea shield and on an air target
- Reported the press service.
The frigate entered the final tests and preparations for state tests at the end of August. At this stage, absolutely all systems and mechanisms of the ship will be tested before the state ones, which will begin in December, based on their results, a decision will be made on the acceptance of the ship into the fleet. The ship must be handed over to the Navy before the end of the year.
The frigate "Admiral Kasatonov" is the second ship of the 22350 project and the first serial ship after the lead frigate "Admiral Gorshkov". The displacement of 5 is thousands of tons with a length of 135 m and a width of 16 m. The frigate is able to go 4500 miles, thus developing speed to 29 nodes. The autonomy of swimming is 30 days. Crew - from 170 people.
Main power plant: gas turbine engine with a total capacity of 65 thousand liters. pp., diesel generators with a total capacity of 4 thousand kW.
The frigate is armed with: the 130-mm A-192 artillery mount, the Poliment-Redut anti-aircraft missile system; launchers for 16 anti-ship missiles "Onyx" or "Caliber", anti-submarine complex "Package", anti-submarine helicopter Ka-27.