The Indian program to create a domestic strike drone may slow down indefinitely. According to Indian media reports, the Rustom-2 drone UAV crashed during testing.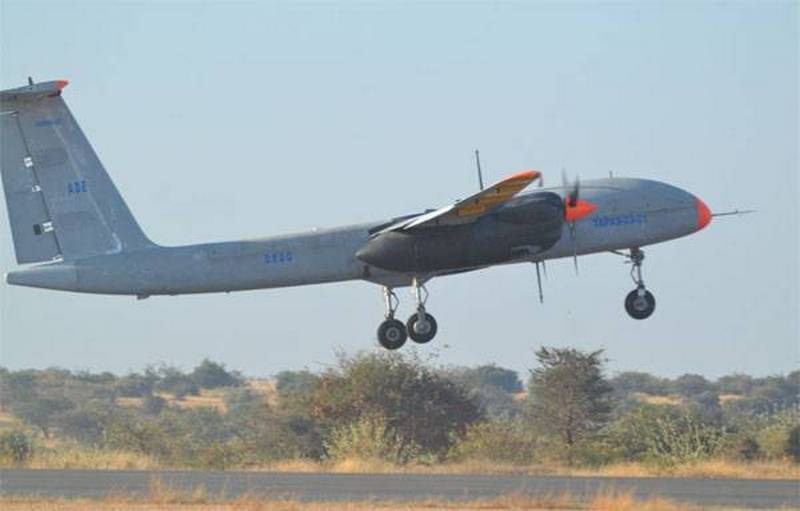 Developed by ADE's Auronautical Development Establishment, a member of the Defense Research and Development Organization (DRDO) of India, the Rustom-2 drone crashed during a test flight in the Challacker test site. The fall of the UAV was able to photograph eyewitnesses. According to the military, this fall could lead to a halt in the program for creating UAVs and the Indian army will have to buy drones abroad.
As is known from open sources, work on the creation of a national reconnaissance drone, which also has strike functions, has been underway in India since 2009. The Ministry of Defense of India announced the first successful test of the UAV Rustom-2 at the end of February last year. Tests were conducted at the Karnataka state training ground (south-west of the country).
According to reports, Rustom-2 can be in the air for more than a day, its weight is about 1800 kg. Length - less than 10 meters, wingspan - 20,6 meters. It can operate at heights of up to 6700 meters. The maximum speed is 250-280 km / h.
Currently, the Indian Army is armed with about fifty Israeli-made UAVs Heron, as well as kamikaze drones Harop and Harpy. It was stated that they wanted to buy American RQ-4 Global Hawk, but they refused it after Iran shot down such a drone.