Following the Finnish army, the South Korean self-propelled howitzers are also arming themselves with the Norwegian. The rollout of the first 155-mm self-propelled gun K9 for the Norwegian military took place on September 19 this year at Hanwha Techwin in South Korean Changwon.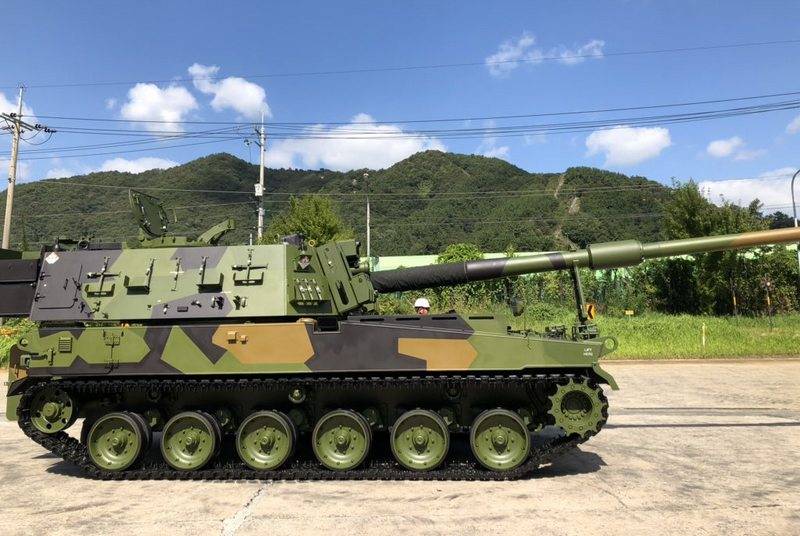 Hanwha Techwin, a South Korean company, held a ceremony to roll out the first K9 self-propelled howitzer and the first armored vehicle for transporting K10 ammunition manufactured under a contract with Norway, signed in December 2017. 155-mm howitzer assigned the Norwegian name VIDAR. According to the agreement signed by the Norwegian Ministry of Defense and the South Korean company Hanwha Land Systems, the latter will supply the Norwegian army 24 self-propelled howitzers K9 Thunder caliber 155 / 52 mm new production. At the same time, an option is provided for another 24 self-propelled guns. In addition to the howitzers themselves, the contract provides for the supply of six armored vehicles for transporting K10 ammunition on the same chassis, ammunition, simulators, related equipment, as well as training and full technical support for self-propelled guns for their entire service life. The total value of the contract, taking into account the option, may amount to 384 million dollars.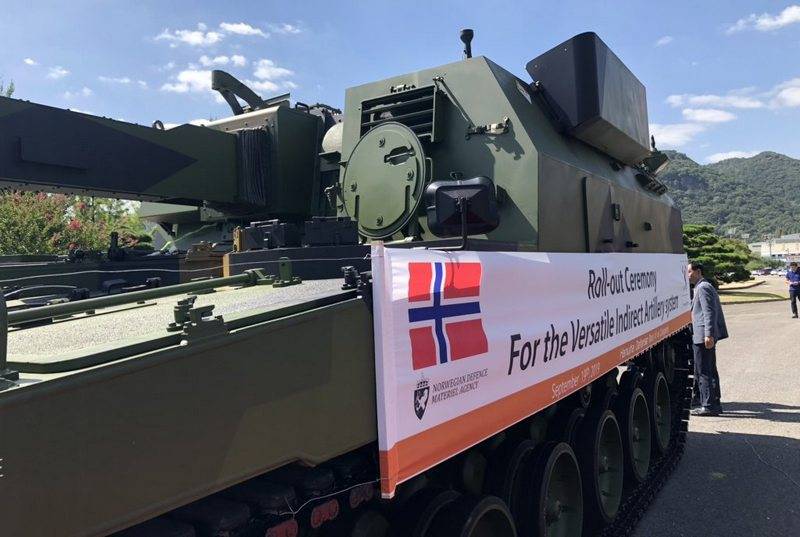 The delivery of howitzers to Norway will begin this year, the bulk of the equipment will be delivered to 2020, and will end in 2021.
In service with the Norwegian army K9 Thunder will replace the obsolete SAU M109A3GNM. The South Korean howitzer won the tender, in which the German Panzerhaubitze 2000 from Krauss-Maffei Wegmann, the French Caesar from Nexter and the modern-day M109 Krait from the Swiss company RUAG also participated.
The 155-mm / 52 self-propelled howitzer K9 Thunder (Thunder) was developed and manufactured by the South Korean association Samsung Techwin (now Hanwha Land Systems). In total, from 1999 to 2014, the South Korean army received 1136 self-propelled guns K9. Since 2004, the system has also been produced under license in Turkey (as T-155 Firtina).
K9 Thunder weighs 47 tons, powerful diesel in 1000 hp provides speeds of up to 67 km / h. Cruising range 480 km. Armed with the KNUMX 9-mm gun with a barrel length of 155 caliber, the rate of fire reaches 52 rounds per minute. Crew 15 people. The installation can hit targets with high accuracy from a distance of more than 5 km, and when using Excalibur smart shells, from a distance of more than 40 km.