In the section "Weekly Results", "Military Review" presents several stories that found a special response from readers; plots that looked resonant in a public and professional environment. The topics are serious and not very discussed together.
Dig deeper, Mykola, give way to aircraft carriers
The new Ukrainian government announced its intention to implement a large-scale project to connect the two seas. Kiev is considering options for laying a new waterway from the Black Sea to the Baltic.
Finally, it will be done, friends, a great Ukrainian miracle - the answer to the Chinese trade "Silk Road of the 21st Century" from Kiev: the path "from the Varangians to the Greeks" and vice versa. Shopkeepers rub their hands in anticipation of profits. The delivery of new shovels will be indicated in budget estimates: intensification of deforestation of the Carpathian forests with a strong argument "for cuttings". The maximum task is to pass American aircraft carriers from the Baltic to the previously dug Black Sea. What a joy! .. AUG on the Dnieper! Therefore, dig deeper, Mykola ... that is, Alexei (aka Oleksiy), who is the leader of the entire Ukrainian government - Goncharuk. Give way to aircraft carriers!
Reader Comments:
Azazelo
Are you going to dig a new one?
Constructive relationships with the possessed are a priori impossible ...
Vol4ara
Shovel prices will soar, it's time to procure for the future, while cheap
Nicholas C.
In Kiev, the bridge across the Dnieper can not be completed for decades, but here a large number of complex hydraulic structures ...
Although in Ukraine it has long been like this: whoever brushes more beautifully is pan.
Bombanulo
Middle Eastern media reported on the eve of an attack on one of the largest oil fields in the world, as well as on Saudi Aramco's other infrastructure.

Bombanulo ... Meanwhile, Saudi economists are already plotting, in which in the next few weeks, oil prices could jump at least up to 70 dollars. Accounting "debit loans" show that in such a trend, Riyadh will have enough money not only to restore the work of oil refineries and fields, but also to throw pocket expenses (and pockets deep-blue ...) to the royal family. In parallel, it is possible to push the United States to attack Iran, because Trump lost something completely on the proliferation of democracy - with Kim on his short leg, fired Bolton, wanted to invite Putin to G7 (G8), he intended to meet with Iranian President Rouhani on the sidelines of the UN General Assembly. No, Donald, this will not work, "someone" decided - from the war, which should be (purely statistically and historically) unleashed by each president, you will not leave! It remains to show Ivanka the Saudi children, suffering from smoke, from the oil refinery, and there, uncover the Tomahawks.
Reader Comments:
asv363
It is interesting that the recently appointed new KSA energy minister spoke about the desire to raise oil prices to 80 $.
Dietmar
It is time for the Saudis to buy Pantsyry from Russia to protect themselves from drones.
Amin_vivec
The beginning of the attack on Iran. And even if they were Hussites, Iran is to blame anyway.
Soul torment with helicopter carriers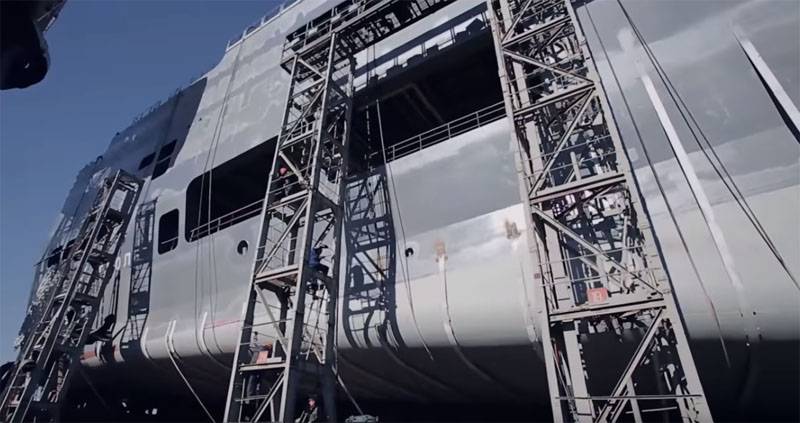 Information that Russia is preparing to begin construction of its own universal landing ships (UDC helicopter carriers) has found confirmation.
We definitely need helicopter carriers, "functionaries said that year in 2010.
Why the hell do we need these pieces of iron ... - said the functionaries after the well-known decision of Monsieur Hollande.
No to our
the fleet
UDC helicopter carriers are definitely needed, functionaries say today.
It's just some kind of girl's inconstancy, mental torment.
Well, the statements from the series: "by such a time we will definitely build - a) communism, b) capitalism, c) helicopter carrier (underline as necessary) from known times are no longer taken seriously. Needed - Build. And to share the skin before going hunting - bad manners.
Reader Comments:
The black
Strange throwings of MO - necessary, not necessary, oops - again necessary.
KVU-NSVD
I personally have a feeling that they are moving towards the formation of aircraft carriers in the USSR. Remember, Moscow first, and then ... So here is Gren, modified enlarged descendants, and now here are helicopter carriers in 15 thousand. Although I do not insist on my innocence - it just happened to generalize in my head.
martin-159
It is probably pleasant and easy to write about what will happen in a dozen years.
Tank Director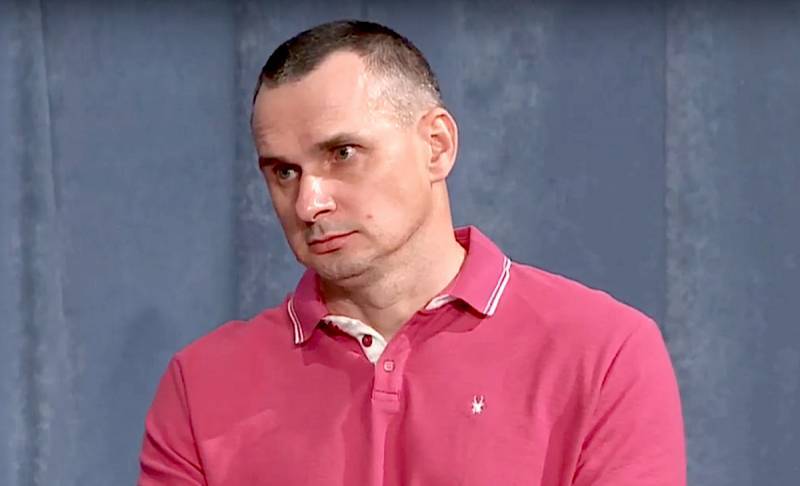 Director Oleg Sentsov, who was detained in Russia for preparing a terrorist attack and recently released as part of a prisoner exchange deal, said that if he returned to Crimea, then
tank
.
And now about the secret special operation "Return of Olezh to the house." The operation is so secret (only t-s-s-s ... nobody!) That you can talk about it only in the kitchens and in an undertone. Its essence has somewhat opened itself
Django
Sentsov freed.
Sentsov returned to Ukraine as a trained specialist in the capture and export of military equipment under his own power. Under cover of night, the special agent sneaks from the south-north to the bedroom to the former Minister of Defense Poltorak and steals the key to the park door of one of the military units of the Kiev region. An hour or two later, having added solariums to tanks, the agent drives the Oplot tank to yards and yards to Sivash, where he transfers the trophy to the reliable hands of Russian border guards. Further, everything is clear: a secret rewarding in the Kremlin, conferring the classified title of "director-tanker", awarding the prize "Without a tower" and an air ticket to Kiev via Chisinau - prepare for a new assignment.
Reader Comments:
NEXUS
Come ... in the tank and they will bury you. Warrior ... pah.
AnpeL
Olezha (to Sentsov), you are a director, a creative person. It is not easy to approach the matter seriously, but also with a public effect. For example: not on tanks, but on carts.
Valery Valery
I admit that Putin had significant reasons to return this terrorist to Ukraine, but for me, he would have been in prison for ten years.
Task with an asterisk: One was taken out, how much is left?
U.S. CNN has accused the White House and President Trump's administration of threatening the U.S. top secret intelligence source in the Russian leadership. According to the channel, as a result, the United States needed to evacuate the spy.
Well, if this person was the "most valuable" American agent, therefore, you need to exhale, because the rest remained extremely honest and patriotic. So to speak, crystal.
And if not ... oh, horror ... can it be that in the ruling circles of Russia there still remain venomous Herods, robbers of socialism ... uh-uh capitalist property and distributors of the most secret secrets ... Oh yes, we have not 37 year ...
Reader Comments:
Monster_Fat
Most likely the "spy" as he sat at the top continues to sit, and all this hype about the "exported spy" is a distracting maneuver, they say, such a valuable agent had to be taken out of Russia. And it's even more likely that there are more than one such "sinker of information" "above", and indeed any of the Russians who have millions of accounts abroad, foreign intelligence agencies can grab the Faberge and force them to "share" information with them.
Sergey Averchenkov
Chubais have not yet been evacuated? No? So traitors remained in our country.
Strashila
Like the discovery, why to evacuate it, our individual officials in their work on the effectiveness of doing dirty tricks to their state are superior to Western intelligence agencies - all taken together. So they did a good deed. Well, or found a cheaper replacement.