Interstate
aviation
The committee prepared a preliminary (interim) report on the incident with the Airbus A321 airliner in the Moscow Region. This is a situation in which pilots had to plant an emergency liner in a corn field.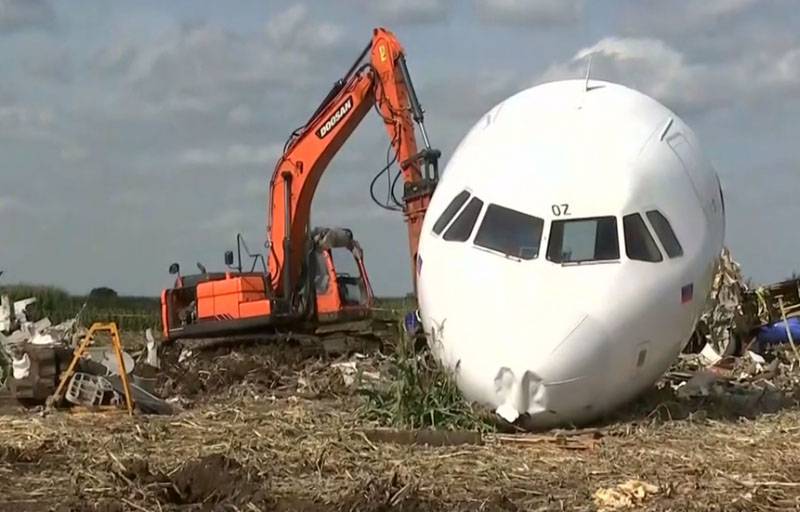 The process of disassembling a plane that landed on a cornfield
The report confirms the version that was originally expressed: the reason for the failure of the engines of the passenger plane of Ural Airlines was the entry of birds into them. After the birds got into the Airbus A321 power plants, there was a loss of takeoff thrust. A separate issue remains regarding the maintenance of the airport, in the immediate vicinity of which there is a landfill, which has become the habitat of thousands of birds, including gulls. The aerodrome services note that the bird repellent systems worked as usual. But the flight of birds in front of the liner during takeoff did not stop it.
The pilots were no longer able to return the multi-ton car to the airfield in Zhukovsky and made the only right decision - to land "in front of themselves".
As you know, the landing was successful - the skill of the crew avoided casualties. At the same time, the aircraft commander, who instantly oriented themselves under the circumstances prevailing at that time, decided to land with unreleased landing gear, although Airbus instructions prescribed this. It was such a landing that in the end allowed the aircraft to land quite smoothly on soft and loose soil. Otherwise, there remained the danger of "burying" the wheels in the ground at high speed with the likelihood of a plane crashing and unpredictable consequences.
Recall that by decision of the head of state, crew members were awarded state awards.