The Swedish armed forces received the first serial 120-mm self-propelled mortars Granatkastarpansarbandvagn 90 (Grkpbv90), made on the chassis of the CV90 infantry fighting vehicle. The first batch of mobile mortars was delivered by HB Utveckling AB, the portal janes.com reports.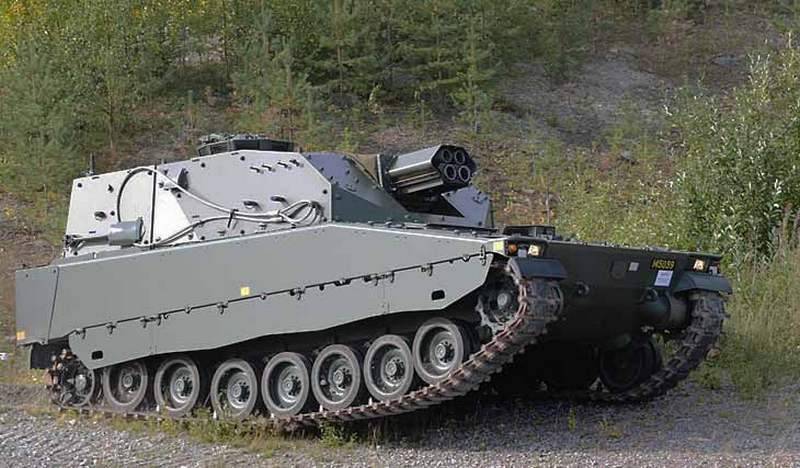 The 120-mm self-propelled mortar Grkpbv90 (Mjölner - Thor's hammer) was developed by the Swedish army by the Swedish units BAE Systems as a replacement for the previously planned 40 automated 120-mm double-barreled mortar systems AMOS (Finland) also based on the CV90 BMP. The contract for the purchase of 40 mobile mortars was concluded in 2016, and in February of this year, the Swedish army received four pre-production vehicles for military tests.
The Mjölner system, created by the Swedes, is a simple double-barreled smooth-bore mortar with "conventional mortar-type" barrels with anti-recoil devices and manual muzzle loading. Shooting is conducted by conventional mines at a range of up to 9 km. To help the loader there is a mechanism that delivers two mines. Shots occur alternately, with a small interval. Mortars are placed in a rotating armored turret with a manual rotation drive. The transportable stock of mines in the amount of 50 pieces is located at the rear of the tower; it is possible to place an additional stock of mines in the machine body. The crew is four people - a commander, a driver and two loaders. The calculation when shooting is in the fighting compartment in a standing position in full growth.
According to the Swedish military, it is the manual loading system that provides a higher rate of fire (10 rounds per minute, up to a maximum of 16 rounds per minute), however, some firing modes are not available to the Swedish mortar, as well as shooting on the go.
In total, the Ministry of Defense of Sweden plans to receive 2020 self-propelled mortars Grkpbv40 (Mjölner) by the end of 90. It is planned that these mobile mortars will partially replace the towed mortars GRK m / 120 of the Finnish model 41 of the year that are in service with the 1941-mm. Yes, this Swedish army of self-propelled mortars was not in service.