The manufacturer is going to upgrade the Onyx anti-ship cruise missile. It is reported by "
Interfax
"With reference to the general director of JSC" VPK "NGO engineering" Alexander Leonov.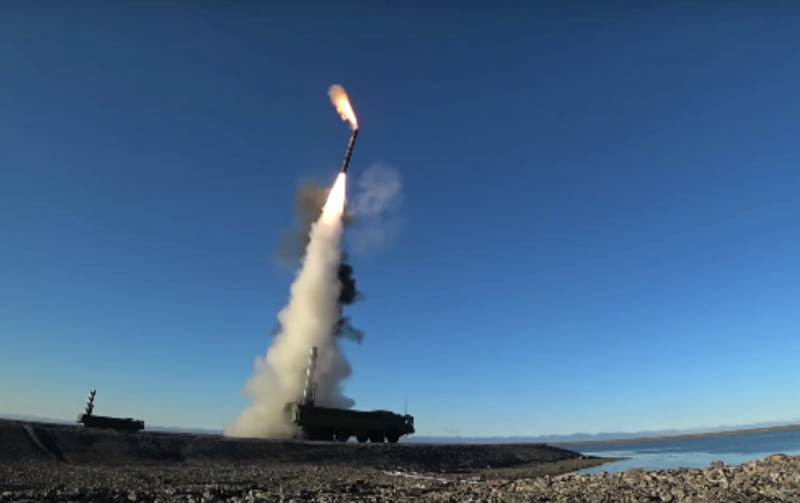 The term of service of an anti-ship missile in the service may be extended due to the modernization planned by the Tactical Missile Weapons Holding. This was reported by InterFax with reference to the corporate magazine of the company "Just for the Goal".
According to Alexander Leonov, General Director of NPO Mashinostroyeniya, a member of the holding company of JSC VPK, his company came up with a number of proposals that, if implemented, would help improve the flight characteristics of the rocket and increase the efficiency of the entire complex. The upgraded version will be able to remain in service for a long time. Leonov confirmed the same information in a comment.
TASS
.
A distinctive feature of anti-ship missiles "Onyx" Leonov considers universality. The missile has a high supersonic speed, which increases the likelihood of overcoming potential air defense and missile defense systems. It is also characterized by short flying time. In addition, the missile can be placed on carriers of various types: from submarines and surface ships, to aircraft and coastal mobile installations.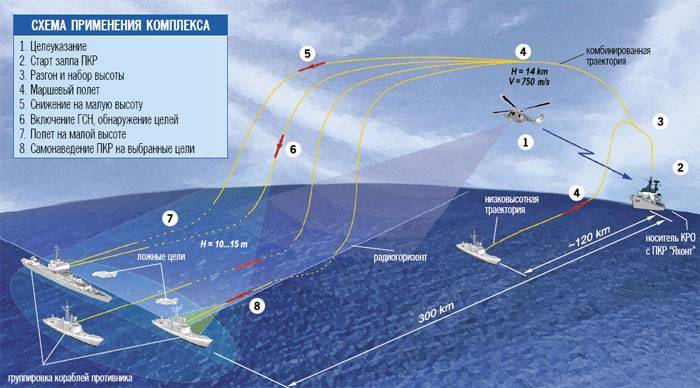 Complex application scheme
The rocket developed in the 80's did not enter service until the 2002 year. It has a horizontal range of fire. It implements the principle of application ("shot-forgot"), it also has reduced ESR. It also stands out for its effectiveness in electronic countermeasures.
The exact range of these missiles is not known. Open sources mention 300 km, but this data primarily refers to Yakhont, the export version of the anti-ship missile. Also on the basis of Onyx, together with the Ministry of Defense of India, the BramOs rocket was created.
The target capture range of the homing head is at least 50 km. The maximum speed at the peak altitude of 14 thousand meters is 750 m / s (2,5 M at Vsp = 298 m / s). The main difference from previous generation missiles is the use of a ramjet engine instead of a double-circuit turbojet (turbofan engine). This allows you to increase the speed of the rocket, but also introduces significant restrictions on the foot and small subsonic (up to 650 km / h) speeds. Also, the rocket cannot start without preliminary acceleration.