The Israeli
aviation
for the third day in a row it strikes in the Gaza Strip. The bombardment of Gaza is also conducted from the ground. Habitual statements from the command - all targets hit were Hamas targets.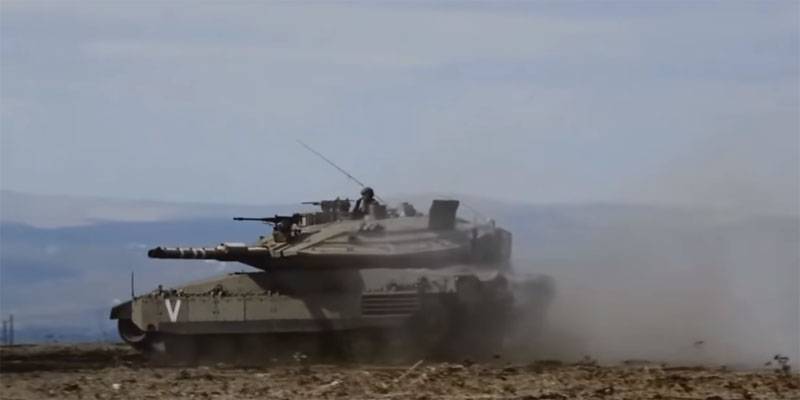 In addition to airplanes and drones, Israel also uses
Tanks
Merkava.
The IDF press service reports that the new bombardment of Gaza by Israeli aviation is a response to rocket attacks on Israeli territory. We are talking about triggering an alarm siren in the settlements of Yad Mordechai and Nativ a-Asara, which are located near the border with the sector. In total, according to the Israeli media, three missiles were fired at these settlements. As a result, no one was hurt. The Israeli shopping mall "Reshet" came out with a report that one of the houses in Israel received minor damage as a result of a splinter.
The IDF press service reports that Hamas infrastructure facilities in northern Gaza were fired from tank guns. Several checkpoints and roadblocks were shelled.
The day before, shock UAVs used rockets at Hamas positions in the Beit Lahiya area. Palestinians claim that at least 4 people died. In Israel, casualties and destruction are not reported.
The night before in Ashkelon (Israel) a missile strike warning siren was heard. However, in the end, the IDF press service reported that the operation was false.
Against this background, the US said that the "deal of the century" is close to being presented to the public. The deal of the century in Washington refers to a hypothetical agreement between Israel and Palestine. The United States believes that Palestinians should accept multibillion-dollar assistance from a number of Arab countries to develop their economies and create jobs in exchange for recognizing Jerusalem as the Israeli capital and refusing military action against Israel. Israel itself may receive a "contract" for joint economic activity with Saudi Arabia.