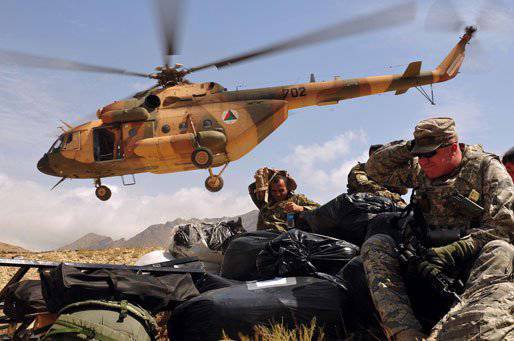 The United States "would like to purchase more 12 Russian Mi-17B5 helicopters for the national security forces of Afghanistan." This was announced in an interview with ITAR-TASS by the special envoy of the Russian president for Afghanistan, Zamir Kabulov, who is completing his visit to Japan today.
"We have already delivered the 21 Mi-17B5 helicopter to Afghanistan on the order of Washington," the Russian diplomat said. "Our American colleagues expressed a desire to purchase more." "This is about additional 12 units of the Mi-17B5," Kabulov explained. "However, until this initiative was suspended by the Republican wing of the US Congress."
"This is not our headache, but the headache of the current US administration," the special representative of the Russian president for Afghanistan believes. "Their task is to explain to intractable congressmen that very much depends on the availability of high-quality helicopters." Kabulov explained that the United States "has many good helicopters of its own, but all of them are not adapted to the Afghan relief, the republic does not have the appropriate technical base, and the Afghans themselves are used to flying Russian Mi-17."
"For the Afghan relief, the Mi-17 is perfectly optimal," said Kabulov. "Americans need to convince themselves that buying these helicopters is solely in their own interests." "In the end, more young American soldiers will return home," the Russian diplomat concluded.