At the Zelenodolsk shipyard in Tatarstan, the ceremony of laying the small rocket ship (MRK) of the 22800 Karakurt project took place. This was reported by the press service of the Ministry of Defense.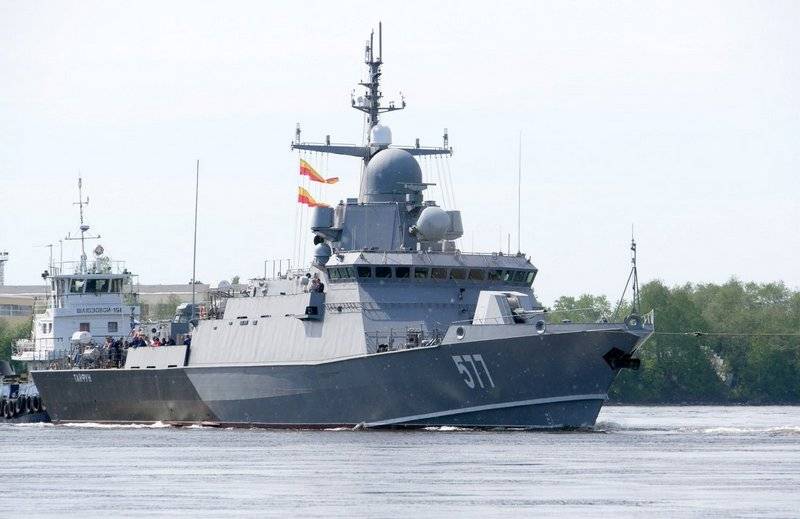 first serial RTO Sovetsk (former Typhoon)
The fifth serial ship of this project, laid today in Zelenodolsk, was called the Typhoon. Previously, it belonged to the first serial RTOs built on Pella, but later renamed Sovetsk. This is the last ship of this series, laid down at Zelenodolsk Shipyard. Construction of RTOs, with a high probability, will be carried out at the Zaliv plant in Kerch.
According to the Commander-in-Chief of the Russian Navy Nikolai Evmenov, who personally arrived at the launch ceremony of the RTOs, it is planned to complete a series of 18 ships of the 22800 project by the 2026 year, after which construction of ships of a larger displacement will begin.
Small rocket ships of the 22800 project (cipher "Karakurt") - the Russian series of multi-purpose rocket and artillery ships of the near-sea zone (small corvettes). They are designed to conduct combat operations in the near-sea zone and participate in the fulfillment of tasks in peacetime and wartime, independently and as part of ship groups.
Main characteristics: length - 67 meters, width - 11 meters, draft - 4 meters, displacement - about 800 tons, cruising range - up to 2500 miles, autonomy - 15 days. The main armament is one PU UKKS (universal ship complex) 3С14 RK Caliber, one 76-mm gun mount AK-176МA, two 30-mm gun guns AK-630М or CIRC missile-M, two 14.5-mm machine guns MTPU.