The Indian Air Force will receive six additional divisions of domestic Akash anti-aircraft missile systems, which will be deployed in areas bordering Pakistan and China. The purchase has already been approved by the Indian government.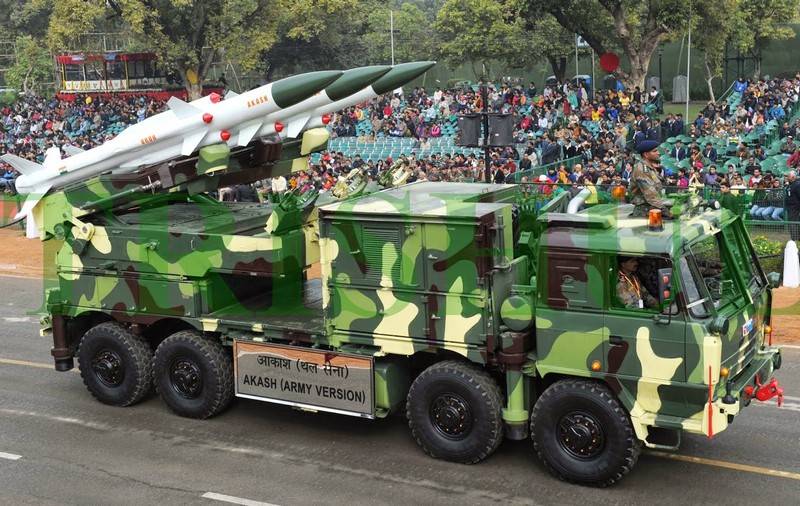 The Government of India approved the purchase in the interests of the Indian Air Force of six divisions of domestic air defense systems "Akash", as well as 550-600 missiles for systems. The complexes will be deployed in areas bordering China and Pakistan.
A two-stage solid-propellant rocket of the "ground-to-air" class has a starting mass of 720 kg with a length of 5,8 meters, the mass of its fragmentation warhead with ready-made striking elements is 60 kg. It is stated that the complex is capable of intercepting various types of air targets - drones, fighters, cruise missiles - at an altitude of up to 20 km and a maximum range of 25-30 km. Some of the new missiles will be equipped with a new nationally designed radar seeker, which was successfully tested in December 2017.
The Apash air defense missile system for the Air Force will be delivered on a wheeled chassis, unlike the complexes for the Ground Forces, which are manufactured on the chassis
tank
T-72.
Earlier, two Akash divisions, which are used to provide air defense at air bases, have already been adopted by the Indian Air Force.
In turn, the Indian Ground Forces comprise six Akash air defense divisions. The command of the Indian Air Force stubbornly resisted the supply of air defense systems, since, according to the military, the Akash are not suitable for use in military formations, where an operational response is required when intercepting air targets. According to the SV, the ground elements of the complex, primarily the three-coordinate Rajendra radar, are easily detected by the enemy due to the high radar signature.
However, 96 percent of the components of the air defense systems are manufactured in India and this allowed the Ministry of Defense of India to push this air defense system to deliveries instead of foreign complexes.
The design and development of this air defense system began in India in 1983. After the end of a rather long period of time during which tests were carried out, and improvements to the anti-aircraft complex, it was adopted only in the 2015 year. Numerous problems with the complex led to the fact that the Air Force and Air Force repeatedly refused to take it into service. In 2017, 30% failures were recorded during testing.
At present, an 88 percent probability of hitting a target with one missile and an 98,5 percent probability when launching a second with an 5-second interval is claimed.