The world's first floating nuclear power unit (PSU) "Akademik Lomonosov" arrived at its destination on the Pevek raid in Chukotka ahead of schedule. This was reported by the press service of Rosatom.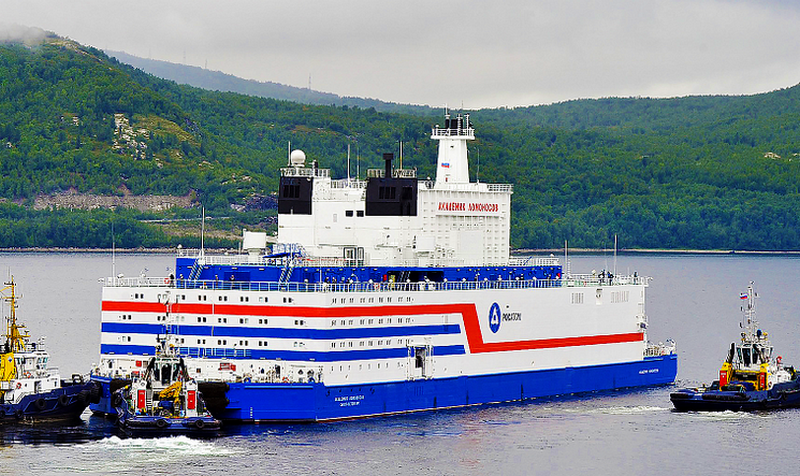 Reportedly, the Akademik Lomonosov SEB, leaving 23 on August from the port of Murmansk, accompanied by the Dikson icebreaker and 3 tugs, covered 2640 miles (4888 km) and approached Pevek, Chukotka Autonomous Okrug ahead of schedule. Currently, the PSU is located at anchor station No.2 a few hundred meters from the coastline, a plan for the mooring of a floating power unit at the berth is being developed.
The floating power unit "Akademik Lomonosov" of the 20870 project is the lead project for a series of low-power mobile transportable power units. Designed to operate as part of a floating nuclear power plant for operation in the Far North and Far East. One floating nuclear power plant can provide electricity to a city with a population of 100 thousand people. It installed two KLT-40С water-cooled reactors with electric power of up to 35 megawatts each, which are capable of generating up to 70 MW of electricity and 50 Gcal / h of thermal energy.
As expected, after mooring and connecting to the networks, the PEB will become a full-fledged energy facility within the FNPP, which will become the northernmost nuclear power plant not only in Russia but throughout the world. In the future, it should replace the decommissioned generating capacities of the Chaun-Bilibino energy center - the Chaun TPP in Pevek and the Bilibino nuclear power plant in Bilibino.
Currently, Rosatom is already working on the 2 generation of the FNPP - an optimized floating power unit that will be smaller and more powerful than its predecessor. It will be equipped with 2 RITM-200M reactors with a total capacity of 100 MW.