ФлР° РіРјР ° РЅ Черноморского
fleet
Project 1164 Atlant guards missile cruiser Moscow will go to sea in December this year after completing the next phase of repairs carried out at the 13th shipyard in Sevastopol. It is reported by Mil.Press FlotProm with reference to two informed industry sources.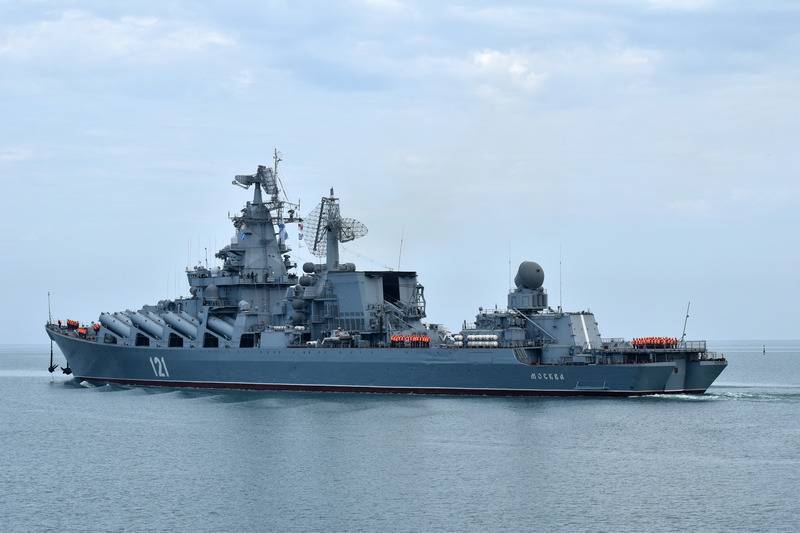 The missile cruiser "Moscow" is planned to be launched at sea in December this year after the full restoration of marching readiness. To date, four gas turbine generators, two gearboxes, a main power plant (GEM) have already been repaired, including the repair of fuel equipment and gas ducts for marching gas turbine engines.
As stated in the management of the GCC, repair and restoration measures are going according to plan and should end by the end of this year, after which the cruiser will enter the next stage of testing. The exact date for the completion of the repair was refused. Note that work on the "Moscow" began in October last year, and in June the 2019 cruiser for the first time after the 2016 year went to sea.
In October, 2018, it was reported that work was begun in Sevastopol to restore the field readiness of the Guards missile cruiser "Moscow" of the 1164 project, the code "Atlant". It was emphasized that the task was to return the ship to the course, there was no talk of modernization. At the same time, USC said they were ready to upgrade the cruiser if there was a desire of the military and technical design. However, in the Northern Design Bureau (SPKB) reported that the Ministry of Defense has no funds for the modernization of the ship and the development of the modernization project will begin, at best, after the 2020 year.
The cruiser "Moscow" was laid on the stocks of the Nikolaev shipbuilding plant named after the 61 communard in the 1976 year as the Slava missile cruiser, is the leading missile in the series of missile cruisers. Launched 27 July 1979 g., Was put into operation in 1983 year. Displacement - 11380 tons. It is equipped with 16 launchers of Vulkan missiles, artillery, air defense systems, torpedo tubes and depth-fire bombs.
The last time the cruiser was at sea from September 2015 of the year to January 2016 of the year in the eastern part of the Mediterranean Sea for air defense from the sea direction of the Russian Hmeimim airbase in Syria.