In the fall, the Pentagon will hold a series of exercises dedicated to the confrontation between China and Russia. This was reported by the portal Defense News.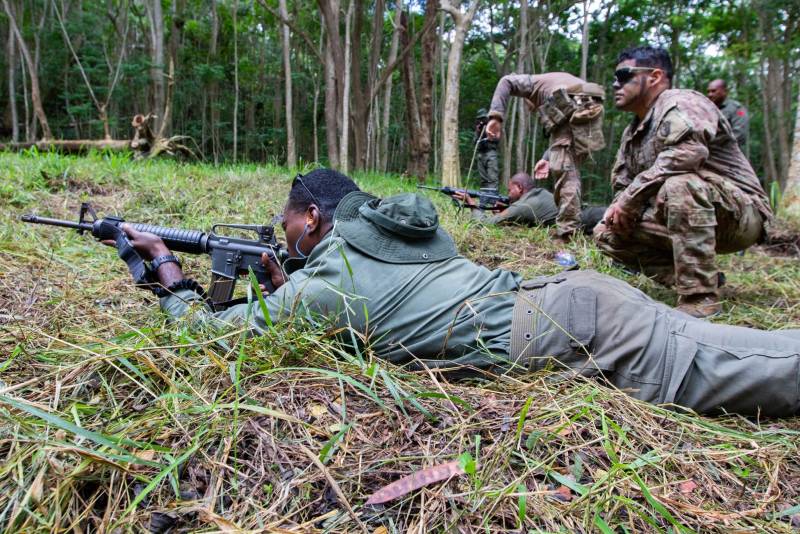 The U.S. Department of Defense has planned a series of military exercises in October and November, led by the Joint Chiefs of Staff. It is assumed that during the tactical games, the Pentagon will assess the effectiveness of combat plans against the PRC and the Russian Federation.
The primary objective of the Global Integrated Wargame exercises will be the inter-arm communications systems and the verification of new equipment associated with them. In particular, promising communication channels should make it possible to unite military units into a single network that conducts data exchange without additional intermediaries. Such an approach should help reduce the reaction time to events and increase the awareness of the troops on the battlefield, as well as reduce losses from the so-called. "Friendly fire."
US is not ready to fight an equal adversary
One of the main problems that the Pentagon is facing is the fact that in the last two decades the main enemy of the United States in wars has been partisan and rebel formations, and the troops are focused on fighting an enemy that is technologically inferior to the Americans. In turn, Russia and China have shown themselves to be countries capable of waging a complex and highly intense network-centric war at a high technical level. For a number of positions (for example, in the field of hypersonic weapons and air defense systems), Moscow and Beijing are ahead of the United States.
When exactly this was shown by China, it is not reported.
We are now sorely lacking a conceptual vision of the interaction of the various arms of our forces in a battle with an equal strength enemy.
- quoted DefenseNews words of Eric Wesley, director of the Center for the improvement of combat skills of the United States Armed Forces.
Commenting on the situation, Wesley notes that the pace of hostilities has fundamentally changed. In addition, the complexity of the interaction of various branches of the armed forces has increased, despite the fact that the need for effective communications in this area is felt more than ever. The American general emphasizes that in the event of a war with the PRC or Russia, they will be characterized by "ultra-high activity."
Not enough communication
Currently, the Pentagon is observing a serious problem that limits the ability of troops to engage in real-time interaction. It is partially "industrial". For example, despite the fact that fifth-generation fighters F-22 and F-35 are produced by the same manufacturer, their communication systems cannot communicate and exchange information with each other.
American generals note that today there is an urgent strategic need to coordinate actions in real time.