Combat and military transport helicopters of the Air Force of the Chinese People's Liberation Army made an intermediate landing at the Chelyabinsk civilian airport on the way to the Orenburg region to participate in the Center-2019 exercises. It is reported by the Ministry of Defense of the Russian Federation.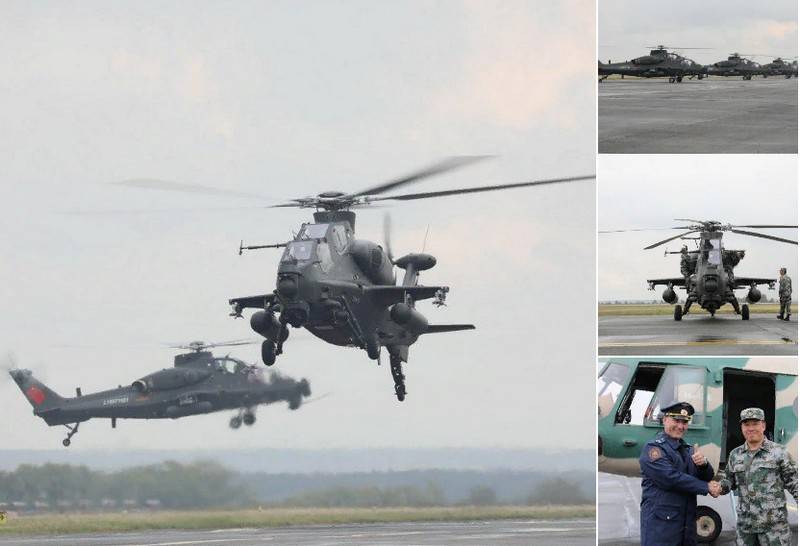 According to the press service of the military department, eight PLA Air Force helicopters landed at a civilian airport in Chelyabinsk to go through customs and refuel before continuing their flight to the Orenburg region. Four military transport Mi-171Е and four shock Z-10 sat on the airfield.
Eight army helicopters landed at Chelyabinsk civilian airport
aviation
PLA - four Mi-171 helicopters and four Z-10s. Aviation equipment will be refueled here, as well as the crew and personnel will undergo customs procedures, after which helicopters will continue their flight to Orenburg airport tomorrow to participate in Center-2019 maneuvers
- it is spoken in the message of the Ministry of Defense.
Earlier it was reported about the arrival in the Orenburg region of the first echelons with personnel and ground military equipment of the PLA. According to a statement by the official representative of the Ministry of Defense of China, 2019 thousands of PLA troops from the Western zone of the PLA combat command, about 1,6 planes and helicopters, as well as other weapons of the Chinese army, will take part in the Center-30 large-scale exercises.
As the Russian military department previously reported, the Center-2019 large-scale military exercises will start in mid-September and will be held in the Central Military District and the Caspian. In addition to the Russian Armed Forces, the exercises will involve military personnel from China, India, Pakistan, Tajikistan, Kazakhstan, Kyrgyzstan and Uzbekistan. In total, up to 128 of thousands of troops from 8 countries are planned to participate.