The Ministry of Defense of Romania reports losses in the country's armed forces. According to the press service of the Romanian military department, one of the soldiers died in Afghanistan.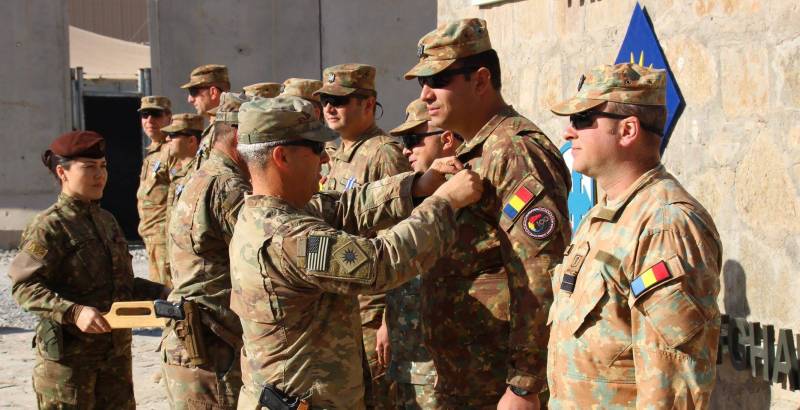 American officer awards Romanian soldier in Afghanistan
According to the latest data, we are talking about a terrorist act, for which the militants of the Taliban terrorist group claimed responsibility (* banned in the Russian Federation). The suicide bomber attack killed at least 10 civilians.
As it turns out, another victim of the attack was an American soldier. Also reports the wounding of another Romanian soldier. However, information about the wound of the Ministry of Defense of Romania has not yet been confirmed.
The Romanian Defense Ministry notes that the Romanian soldier was among the patrols of the Shash-Darak region, which adjoins the so-called Green Zone and is one of the most protected areas of the Afghan capital.
On the same day, the Taliban carried out a bombing of a car at the gates of one of the Afghan military units. Among the dead and wounded, there are Afghan soldiers. The information is confirmed by representatives of a military hospital.
Romanian troops are part of the NATO military contingent in Afghanistan. Moreover, Romania is one of those NATO countries whose leadership has decided not to reduce the number of its military in this country.
In Afghanistan there are soldiers of the 300-th battalion of the Romanian Armed Forces "Sfântul Andrei". They on a rotational basis replaced the servicemen of the 9-th mechanized brigade "Maracesti".
It should be noted that negotiations between the Taliban leaders and US representatives continue in the capital of Qatar.