Former presidential candidate of Russia, well-known TV presenter Ksenia Sobchak arrived in Kiev, where she gave an interview to journalists of Radio "NV".
According to Sobchak, it proceeds from the fact that our peoples are fraternal and that it is necessary to survive all that "has already been done." At the same time, Sobchak added that today it is impossible to start with the requirement "Return Crimea".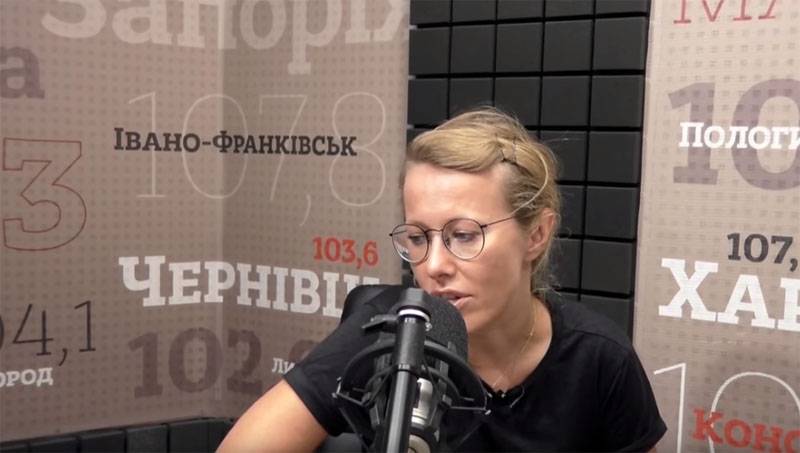 Ksenia Sobchak:
It is necessary to try to find some positive way out, other than "Give Crimea", because this way out, unfortunately, is now impossible. It would be, in my opinion, the most correct, but, based on reality, it is now impossible for Russian politicians, for any.
Further, the Ukrainian journalist decided to arrange a test familiar to today's Ukraine, and Sobchak ran into the question: "Whose Crimea?"
She tried to get away from a direct answer:
I understand that everyone who comes here undergoes this execution.
She noted that she once again claims to be "violating Russia's international agreements" and that "this territory should be returned."
Sobchak:
But some kind of referendum must be held.
At the same time, the politician and TV presenter added that this issue is complex, that the Russian-speaking population predominates in Crimea.
Sobchak added that "even" Navalny, "applying for the presidency in Russia", can no longer afford to say that Crimea is not ours.
In an interview, Sobchak made it clear that if an actor had run for election in Russia (as it was in Ukraine), he would have little chance of winning, since Russia is a patriarchal country and is looking for a president-father, president-tsar.
Sobchak:
It's like Schwartz: to kill a dragon, you need to become a dragon yourself. And this is the worst thing, to be honest.