Britain was reminded of another overlooked consequence of secession from the European Union (Brexit). The European Commission, on the initiative of Germany and the 4 countries of Europe (Sweden, Luxembourg, Belgium and the Netherlands), appealed to London with a request to dismantle old drilling platforms and installations in the North Sea.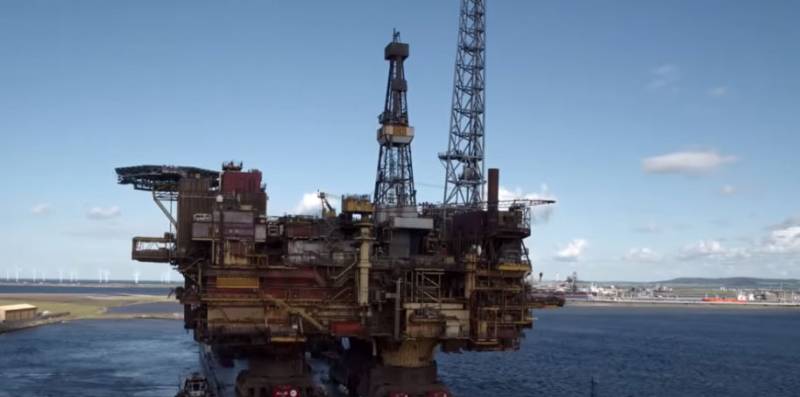 We are talking about platforms that were previously installed for oil production by European companies, including Shell's British subsidiaries. These plants have exhausted their resources and are now rusting in the open spaces of the North Sea. The European Commission calls such towers "time bombs" that can cause irreparable damage to the ecosystem of the region. From London, "time bombs" (that is, old towers) are required to liquidate and clean up the water area.
The German government, on the initiative of which a study of these towers was conducted, reports that at the base of 4's, including the Bravo and Delta drilling rigs, about 11 thousand tons of toxins accumulated. Some of the old towers were burning.
Britain rejects the claims of Germany and other countries, saying that the towers are in the special economic zone of the United Kingdom, and therefore it is for London to decide whether to dismantle them or not. But in Berlin they say that the ecology of the North Sea is a pan-European affair, and if Britain intends to leave the EU, it should take a responsible approach to the problem of abandoned oil production infrastructure objects - not to leave Europe alone with environmental danger.
Germany also has complaints against the Danish government, which continues to claim that the Nord Stream-2 pipeline project poses an environmental hazard to northern Europe, but which for some reason ignores the danger of abandoned British rigs.
The Guardian newspaper recalls that claims to decommissioned oil infrastructure arose in the mid-90's. Then in Britain they suggested simply flooding the infrastructure that had been exhausted for its time, but this caused environmental protests in Europe. But the British government took an even simpler path: a study was commissioned by a group of Scottish ecologists who "found" that flooded rigs "could benefit the North Sea ecosystem, turning into artificial reefs suitable for marine life." For a while, the problem was pushed into the background, but Brexit again updated it.
In June this year, Shell cut off about a quarter of the metal platform structures, canceling further work. The argument is as follows: removing oil deposits in the base of the platforms is very risky and in addition expensive.