Military equipment and PLA troops began to arrive in the Central Military District to participate in the large-scale Center-2019 exercises. This was reported by the press service of the district with reference to the message of the commander of the troops of the Central Military District Colonel General Alexander Lapin.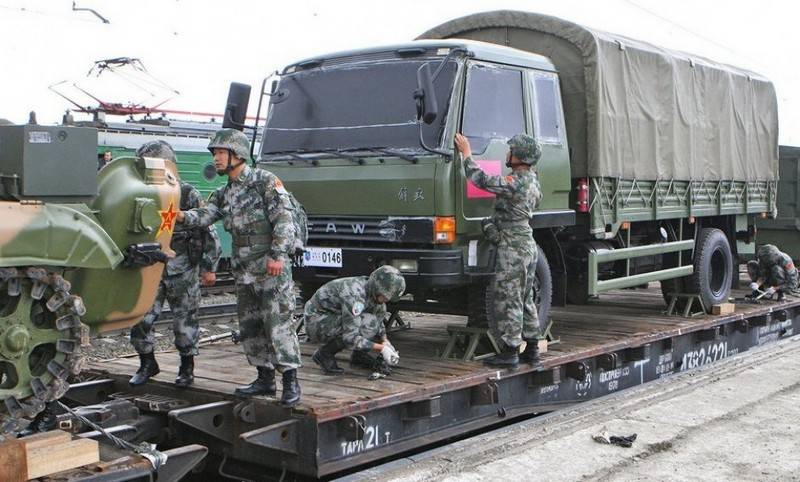 arrival of PLA technology in Russia archive photo 2018 year
The first two echelons with military equipment and military personnel of the Chinese army arrived in the Orenburg region to participate in the strategic command and staff exercises Center-2019. Earlier, a group of senior PLA officers arrived by air. In the near future, the arrival of servicemen and military equipment from other countries participating in the exercises is expected.
To date, two echelons with military personnel and military equipment of the PLA have arrived to participate in the Center-2019 exercises. Earlier, an advanced group of officers of the Armed forces of the People's Republic of China met at the Orenburg airport
- said in a statement.
Earlier, an official representative of the Ministry of Defense of the PRC said that China will send to Russia to participate in large-scale exercises "Center-2019" 1,6 thousand troops of the People's Liberation Army of China and
Aviation
. For this, a united group was formed, which included military personnel from the Western zone of the PLA combat command, about 30 aircraft and helicopters, as well as other weapons of the Chinese army.
As the Russian military department previously reported, the Center-2019 large-scale military exercises will start in mid-September and will take place mainly in the territory of the Central Military District. In addition to the Russian Armed Forces, the exercises will involve military personnel from China, India, Pakistan, Tajikistan, Kazakhstan, Kyrgyzstan and Uzbekistan. In total, up to 128 of thousands of troops from 8 countries are planned to participate.
The main objective of the exercises is to verify the combat readiness of units and formations of the Russian army, as well as to develop interaction with units of foreign armies.