The British Prime Minister compared the actions of the USSR in Poland in 1939 with the actions of Nazi Germany. The Russian Foreign Ministry, represented by the embassy in London, reacted very sharply to the statement of the head of the British government, recalling the unpleasant for the United Kingdom
historical
facts.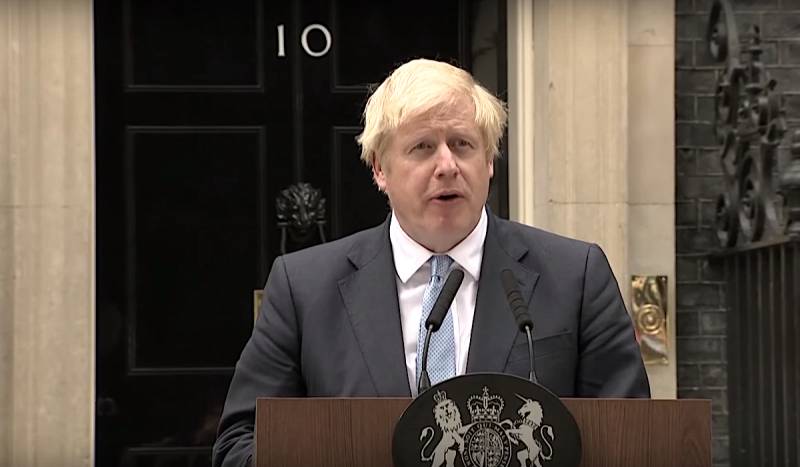 The Russian Ministry of Foreign Affairs commented heavily on the video message posted on Twitter by the freshly baked British Prime Minister Boris Johnson. In it, a politician, recalling the beginning of World War II (1 of September 1939 of the year) mentioned that at that historical moment Poland was
"Between the fascist hammer and the communist anvil."
The Russian embassy in the UK expressed bewilderment at the selection of comparisons of the English prime minister.
With all the historical discussions around the Soviet military operation in the eastern regions of Poland (in Western Ukraine and Western Belarus), the formulation of the question in which the actions of the USSR are actually equated with Hitler aggression is completely unacceptable.
- quotes the website of the embassy statement of the press service.
Britain sabotaged the creation of the anti-Hitler coalition
The diplomatic mission of the Russian Federation recalled that Britain not only indulged the Nazis with the Anschluss of Austria, the partition of Czechoslovakia and the annexation of Klaipeda Territory, but also sabotaged the proposals of the Soviet Union on the possible creation of an anti-Hitler alliance. Such a pact was to serve the interests of all participants and act as a measure of protection, including Poland.
The embassy drew special attention to the fact that the point of view expressed by the current head of the government of the United Kingdom is not very popular among the British, and that in Russia and on Foggy Albion, they primarily remember Soviet-British cooperation during the war, and not other points that the diplomatic mission proposed to leave to historians.
Poland refused to invite Russia
In turn, on September 1, Poland held events dedicated to the 80 anniversary of the outbreak of World War II. Having invited the main world leaders, she refused to call on the President of the Russian Federation Vladimir Putin, stipulating that
It is inappropriate to celebrate the anniversary of the beginning of armed aggression against Poland with the participation of a leader who today treats his neighbors in the same way.
These words Jacek Sasina, deputy head of the Polish government published, the news agency Deutsche Welle published in July. German Chancellor Angela Merkel, in turn, was present at the celebrations.