USS Harry S. Truman (CVN-75) has encountered serious problems with a malfunctioning power distribution system on board the ship. This casts doubt on the expected deployment of an aircraft carrier this fall.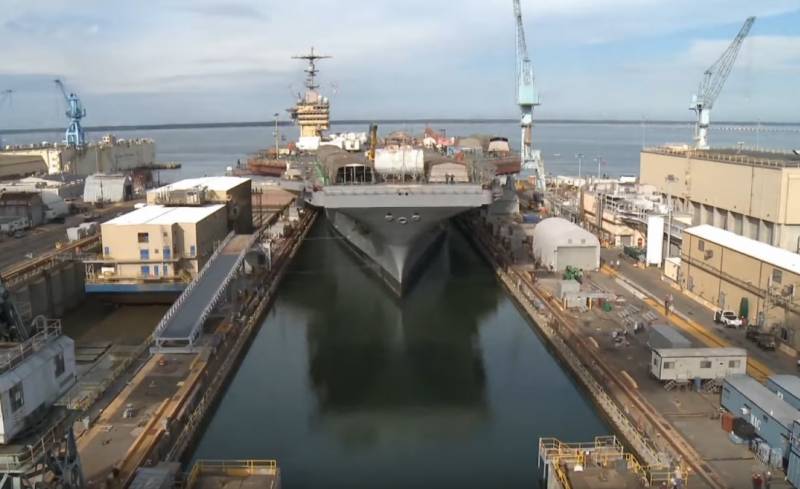 As explained in the Navy, a breakdown requires an analysis of the problem and subsequent repair work. As a result, the American fleet was left without active AUGs on the east coast of the United States. Now only USS Dwight D. Eisenhower (CVN-69) operates here. However, this AUG is recovering after a difficult 18-month maintenance period for its main pennant. According to USNI News, it is likely that it will not be able to turn around by the planned date, that is, at least by the beginning of the 2020 year.
Truman's problems underscore fragility
fleet
aircraft carriers east coast. With six aircraft carriers based in Norfolk, only Truman and Eisenhower could be deployed [...] It does not seem that the situation will improve in 2020 either.
- notes the publication.
USS John C. Stennis (CVN-74) began preparing for a major overhaul, due to begin in late 2021. Now it is used only for developing piloting skills. USS George Washington (CVN-73) underwent a major overhaul of approximately half (completed as planned at the end of 2021). The latest USS Gerald R. Ford (CVN-78) still solves nuclear power plant problems and
weapons
elevators. USS George HW Bush (CVN-77) "stuck" on maintenance that began at the end of February: instead of 10,5 months, it will take at least 28 "due to the backlog of the shipyard."
It is unclear what will happen next.
- concludes USNI News.
USS Harry S Truman plays cat and mouse with the Russian fleet (translation of the original name)