The Russian cosmonauts on the ISS could hardly turn on the power of the Fedor robot delivered to the station. This became clear from the negotiations of the ISS and the Mission Control Center.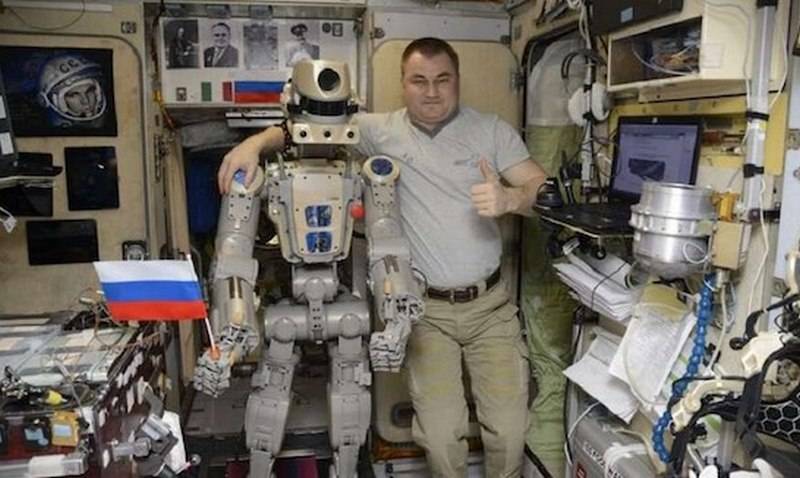 Russian cosmonauts Aleksey Ovchinin and Alexander Skvortsov performed the "revitalization" of the Fedor robot delivered to the ISS by the Soyuz MS-14 spacecraft. At the same time, Skvortsov, being in the Zvezda module, put on an exoskeleton that allows him to control the robot, and Ovchinin went to the Search module, where the robot was installed to turn on the power and check the work of Fedor. As it became clear from the negotiations, it was difficult to turn on the robot.
Maybe, hit it with a hammer (the power button on the robot's shoulder - approx.) With a hammer? I already took a wrench, I rest - no effect
- asked Ovchinin, to which experts from the MCC have suggested changing the battery of the robot.
However, after some time, the robot still managed to start without changing the batteries.
I turned it on. Time ten-fifteen turned on and off. So he turned on and even said something
- said the astronaut.
After turning on the Fedor, Skvortsov, remotely controlling him, said that he could see perfectly through the eyes of the robot. Subsequently, under the control of an astronaut, the robot worked with a screwdriver, keys and electrical connectors.
Earlier it was reported that the Fedor robot will remain on the ISS until September 7. During this time, he will conduct a series of experiments aimed at the ability of the mechanism to work with various tools, including small ones. In the future, it is assumed that the robot will be used to repair mechanisms and components in places dangerous for a person.