The press service of the Champs Elysees reports that a telephone conversation took place between the presidents of France and Ukraine. It is noted that in the first place it was devoted to the issue of resolving the conflict in the Donbass and a possible meeting in the Norman format.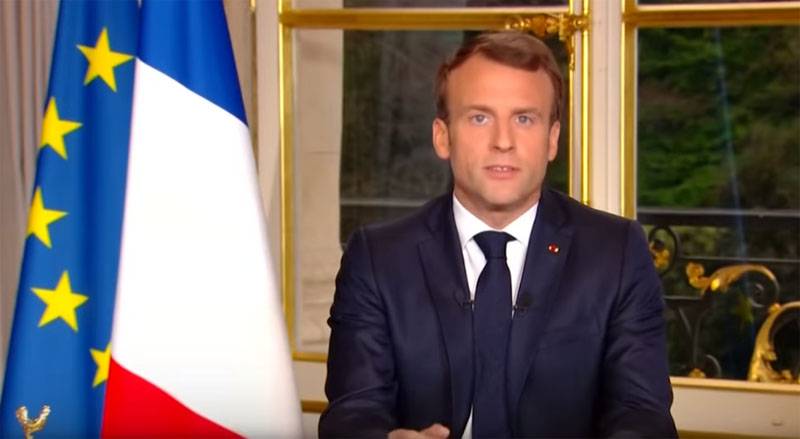 According to Emmanuel Macron, the Norman summit may be held in September, but "for this it is necessary to coordinate important issues." The President of France reminded Ukraine that the country has obligations under the previous agreements, and also, most importantly, in the format of the Minsk agreements approved by the UN Security Council. Earlier in Ukraine, the question was raised that it was time to refuse these agreements. But Macron, apparently, returned Kiev from heaven to earth.
Champs Elysees Press Office:
The French President informed Vladimir Zelensky about the conversation with Russian President Vladimir Putin, as well as about the outcome of the G7 summit. Emmanuel Macron reminded his Ukrainian counterpart of a common desire for speedy progress on the settlement of the conflict in the Donbass.
It is also added that Macron congratulated the President of Ukraine on the start of the new Verkhovna Rada and on the fact that Ukraine managed to form a new government in a short time. The French President stressed that this government "has a great and urgent work that cannot be postponed at all."
The previous Norman-style summit took place in the fall of 2016. The host then was Germany. Once again, the parties came to the conclusion that it was necessary for the parties to the conflict to comply with the Minsk agreements, however, as is known, serious problems arose with the execution of the agreements, primarily due to the fact that Ukraine did not withdraw its weapons from the contact line, continuing shelling.
The shelling continues after President Zelensky came to power.