At the Russian International Aviation and Space Salon, for the first time, an export version of the fifth-generation multifunctional fighter Su-57 is presented. The aircraft is exhibited in a specially built static parking lot for it.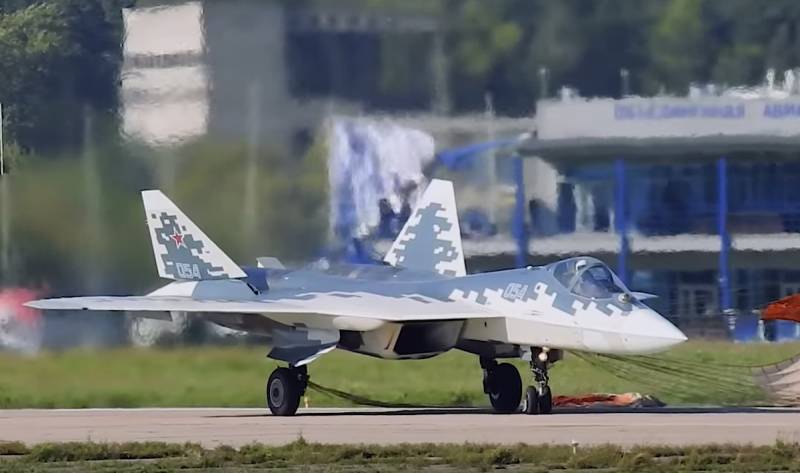 The Russian stealth fighter of the 5 generation of the Su-57 is preparing to go for export. Today, as part of the MAKS-2019 air show, Sukhoi Corporation presented a promising aircraft to the general public and potential customers.
According to the channel "
Star
", A special platform was built for the export version of the fighter. A special staircase adjacent to the aircraft allows you to view the cockpit of a promising Russian car.
Turkey is interested in Russian aircraft
It is worth noting that a day earlier, the new fighter was inspected by the leaders of Russia and Turkey, Vladimir Putin and Rajep Erdogan. The latter, during the inspection, asked whether the car was flying, and, having received an affirmative answer from the Russian president, expressed a desire to purchase a car.
Later Ankara's interest in Russian aircraft was confirmed by Dmitry Shugaev, Director of the Federal Service for Military-Technical Cooperation (FSVTS). According to Shugaev, Turkey sees in Russian aircraft a possible replacement for the supply of F-35. Due to the purchase of C-400 complexes by Ankara, America canceled the participation of the Republic of Turkey in the program for the construction and supply of these fifth-generation fighters.
After Ankara is excluded from the project, without orders for the supply of F-35 elements, about 10 of large Turkish aircraft manufacturing enterprises may remain. At the same time, Shugaev notes that it is too early to talk about any real steps in this direction. At the same time, according to the director of the FSMTC, consultations in this direction will be continued.
Will Russia and Turkey jointly develop a promising fighter?
Currently, Turkey is developing its own fifth-generation fighter TF-X (Turkish Fighter - X). One of the possible options for the development of the project, a Russian official is considering its joint development by Moscow and Ankara. Dmitry Shugaev emphasized the readiness of the Russian Federation for technical cooperation between the two countries.
The readiness to introduce the Su-57 to the international market after its adoption in June this year was announced by Russian Deputy Prime Minister Yuri Borisov. Serial deliveries of the aircraft to the Russian army should begin in the 2019 year.