The US Army is developing new hydrogen-powered combat vehicles. In the future, the US armed forces will receive not only armored vehicles, but also BMP and
Tanks
.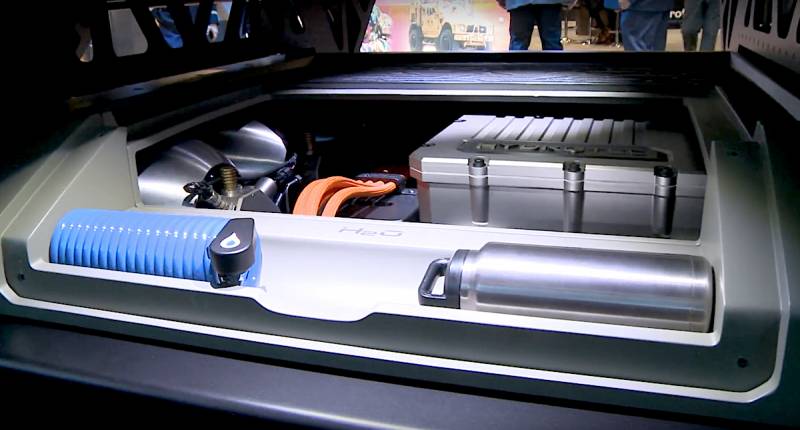 United States Armed Forces are developing promising hydrogen fuel cell combat vehicles. The list includes infantry fighting vehicles and tanks, and the development is led by scientists from the US Army Combat Capability Management Center (GVSC) and the Ground Forces Research Laboratory.
According to new data from the Center for Land Vehicles, the US Army is engaged in an in-depth study and evaluation of fuel cell energy technology. Scientists expect that new developments will provide Washington with tactical advantages when using land vehicles.
Fuel cells generate electricity almost silently, efficiently and do not cause increased harm to the environment. Their energy efficiency is higher than that of internal combustion engines, and the hydrogen used as fuel can come from various sources: it can be produced from any water-based liquid, such as coffee, sports drinks or even urine. Moreover, existing fuels such as gasoline, propane and natural gas can also be used to extract hydrogen.
Hydrogen is the most common element on the planet. Potentially, many scientists see it as a future replacement for gasoline and diesel fuel.
The challenge is to reduce oil dependence
Although the latest hydrogen fuel cell technologies are expected to reduce environmental damage in the long run, they are primarily aimed at reducing oil dependence. In addition, the technology provides an important element of stealth: machines, on hydrogen, do not produce smoke, noticeable noise or smell, do not emit significant amounts of heat.
Scientists from commercial companies working for the army are currently developing unified hydrogen platforms to create the future tank and infantry fighting vehicle.
The new hydrogen power unit provides a number of advantages, including high torque, which should allow the future tank to overcome uneven terrain; quiet mobility; reduced acoustic and thermal characteristics; weight reduction of a combat vehicle; the possibility of obtaining fuel from several sources. But at the same time, a separate issue is related to security.