The United States deployed two B-2 Spirit strategic bombers to the UK. This was reported by the European Command of the US Armed Forces (EUCOM).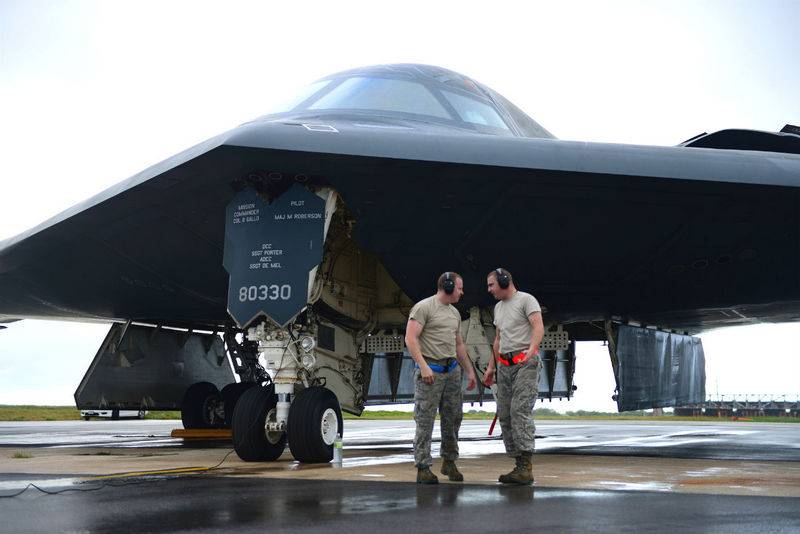 According to EUCOM, stealth bombers have been deployed to Europe with the aim of integrating them into a potential theater of operations, as well as conducting flight training with European NATO allies. It is reported that joint flights should significantly improve the interoperability of American bombers with
aviation
Alliance and build the strategic relationship necessary "to confront a wide range of global problems."
Launched by the United States in 2014, the European Reassurance Initiative in response to Russia's aggressive actions provides for "security guarantees for European allies," which in practice is implemented as the deployment of additional NATO forces along the borders with Russia.
The bombers will be based at the Royal Air Force base in Fairford in southwestern Britain, where special shelters have been created for these bombers to protect the gentle stealth coating from the weather. As previously reported, once every seven years, bomber cover repairs cost 60 million dollars per vehicle.
The American stealth bomber B-2 Spirit is built according to the "flying wing" scheme, it can carry both conventional and thermonuclear charges. Its creation began in the late 1970's and as the work continued, the costs of the project continued to grow. If the first aircraft cost 737 millions of dollars, after improvements this amount increased to 929 millions. After another improvement in the 1997 year, the B-2 Spirit began to cost 2,1 a billion dollars apiece.
It is reported that in the 1988-1999 years the 21 B-2 Spirit aircraft was produced, and 20 of them are now in service with the US Air Force.
Earlier, the U.S. Air Force command reported that as new B-21 Raider bombers came into service, all B-1 Lancer and B-2 Spirit planes would be decommissioned, while older B-52 Stratofortresss would remain in service until the 50's.