The American fleet will soon be replenished with two more giant supply ships. As transmits
"Warspot"
citing the portal navaltoday.com, the US Navy command signed a contract with General Dynamics for the construction of two more expeditionary ships of the ESB type (Expeditionary Sea Base).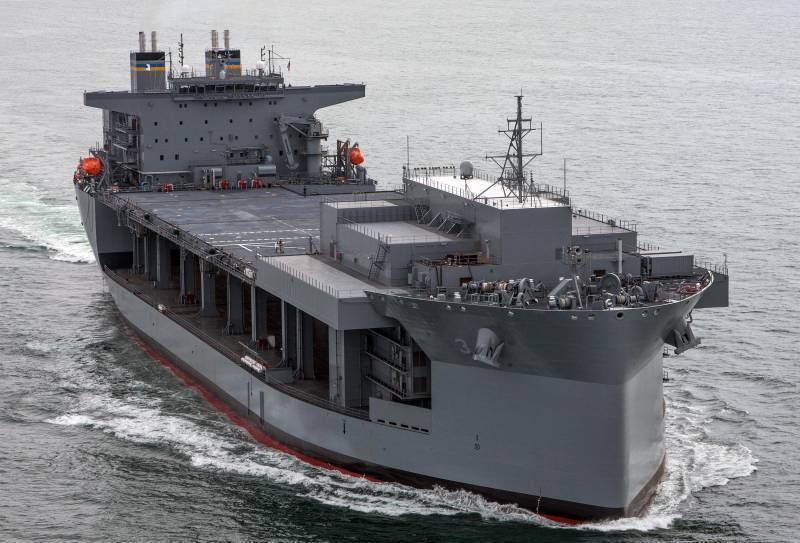 According to available information, the construction of ships will begin in the 2020 year, delivery to the customer is scheduled for the 2023 year. In this case, the contract takes into account the option to build another additional ship of this type. For General Dynamics, the contract for the construction of expeditionary naval bases is not the first. Previously, she transferred four ships of this type to the US Navy and is already completing the fifth.
The first two marine expeditionary bases became part of the auxiliary
fleet
, however, later became part of the combat fleet. This decision was made due to the fact that, according to the laws of the United States, only ships and vessels included in the combat fleet can participate in combat missions. For example, the USNS Lewis B. Puller (T-ESB-3) expeditionary naval base, which was part of the auxiliary fleet, in August 2018 became part of the fleet's warships, becoming the USS Lewis B. Puller (ESB-3). The captain of the U.S. Navy Adan Cruz became the commander of the ship, and the whole team received the status of military personnel.
ESB (Expeditionary Sea Base or expeditionary naval bases) are the largest non-nuclear ships in the US Navy. The total displacement is 78 000 tons, and in this parameter the ship loses only to nuclear carriers such as Nimitz and Gerald R. Ford, the displacement of which is on the order of 100 000 t. The length of the ship is 233 m, the maximum width is 50 m. There is a flight deck and helicopter hangars .
Ships of this type are designed to provide combat operations of the U.S. Armed Forces in low-intensity conflicts, and are an actual military base that has all the necessary infrastructure - ammunition depots, fuel and lubricants, and other resources, premises for a relatively comfortable deployment of the military contingent. Four heavy transport helicopters, the CH-53, and an amphibious barge capable of taking on board about 300 armed fighters, are envisioned for delivering military personnel ashore. The takeoff and landing platform of the marine base is capable of receiving the Osprey MV-22 convertiplanes used by the US Marine Corps as well.