An An-124 Ruslan super-heavy transport aircraft will soon become completely Russian. The development of a deeply modernized An-124-100M aircraft with Russian components is underway at Ilyushin Design Bureau. This was told in an interview with Interfax by the head of the Ministry of Industry and Trade Denis Manturov.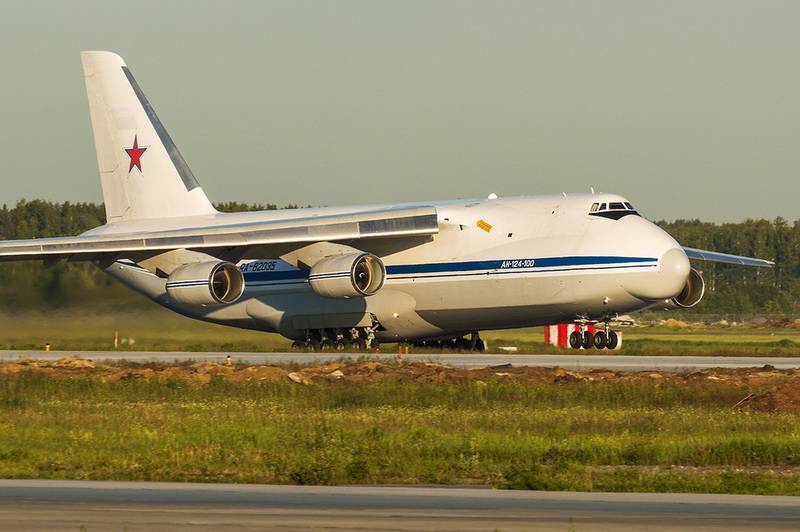 Since 2017, the Ilyushin Design Bureau has been working on the creation of a deeply modernized super-heavy military transport aircraft An-124-100M. The work is going according to plan, the protection of the technical project is scheduled for the fourth quarter of this year. According to Manturov, the work involves the complete replacement of on-board electronic equipment and airborne systems. The new deeply modernized An-124-100M aircraft will be completely Russian.
Protection of the technical project for the modernized aircraft assigned to the 4-th quarter of the 2019 year, work is carried out in accordance with plans
- said the Minister, adding that in parallel with these works, the Ilyushin Design Bureau is conducting research work on the selection of the appearance of a promising military transport aviation complex
aviation
(PAK BTA), which in the future will come to replace the An-124. Protection of the advance project on this topic is scheduled for next year.
The beginning of work on the creation of a new military transport aircraft to replace An-124 Ruslan was announced at the end of last year by Nikolai Talikov, chief designer of Il PJSC.
According to him, the new IL-106 will meet all modern requirements for the aerobatic flight complex, and for the resource, and for the cargo transported. It is planned that during normal operation the aircraft will transport 80 tons of cargo, and under special operating conditions it will be able to "lift" 110-120 tons. The Il-106 cargo compartment will be the same size as on the An-124 Ruslan. In addition to the new avionics, the aircraft will receive new 24-26 tons of thrust engines, which are being created by the United Engine Corporation.