The network discusses the quick and short landing of the latest Russian Su-57 fighter. This kind of landing was made in Zhukovsky near Moscow, where the next International Aerospace Salon - MAKS-2019 opens.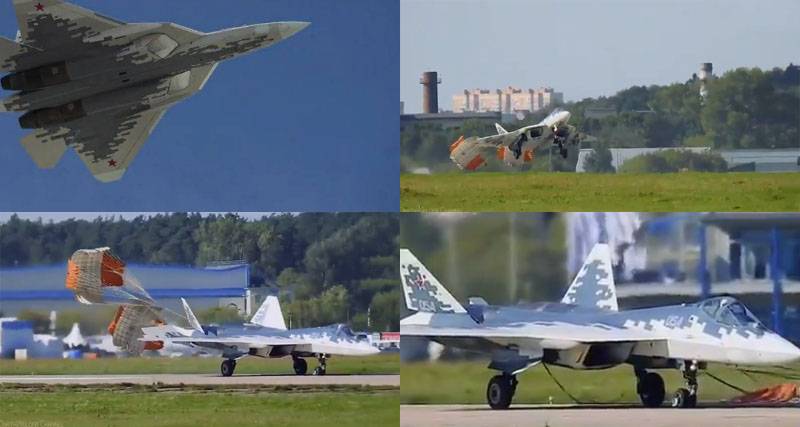 The fifth-generation Su-57 aircraft performed a training flight before the opening of a representative cabin. Earlier it was announced that for the first time the Su-57 will be demonstrated not only in flight format, but also in terms of the static exposure of the MAX-2019.
The Su-57 pilot with tail number 054, landing, released brake parachutes even before the aircraft landing gear touched the surface of the runway. As a result, the full run of the fighter on the runway did not exceed two hundred meters.
The whole difficulty with using brake parachutes before touching the runway is primarily that the pilot must literally feel the moment. If the brake parachutes are released earlier than this moment, then the aircraft may lose speed to a critical point. In turn, this can lead to negative consequences, since the reduction will go into the emergency mode.
The development of this method of releasing brake parachutes was carried out in Soviet times. The main task of the pilot is to level the plane and the height is about 2 m above the ground. So, for example, a similar landing option was practiced on MiG-29 fighters. Personnel: