In the US, they said they were able to reduce the cost of the helmet of the pilot of the 5 generation F-35 fighter. If immediately after development the cost of a flight helmet was about 700 thousand dollars, but now, as stated, it has become "significantly less" - below 400 thousand dollars. For a second, it's about 26,2 million rubles!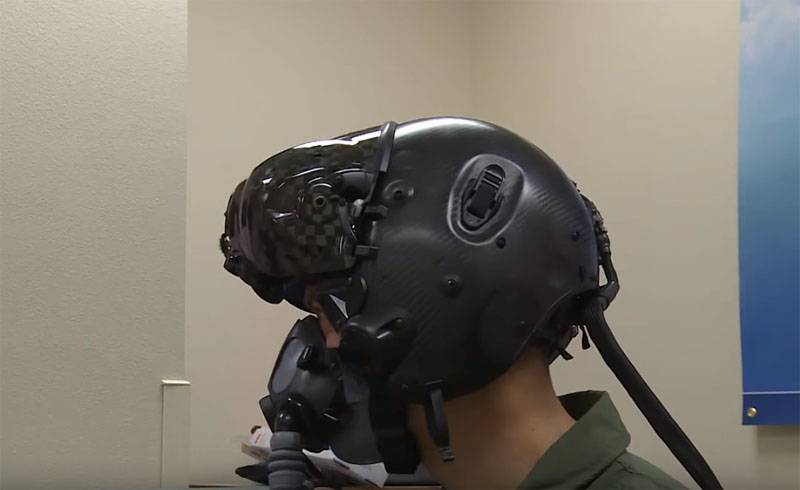 The helmet is adapted for outputting information to an active liquid crystal visualization matrix. What specific information are we talking about?
And we are talking about visualizing data from cameras and parametric sensors on-board systems, including an arms control system. The helmet also uses integrated night vision cameras and a pilot recognition system. It is argued that the latter is able to significantly reduce the risks that arise in the event of a deterioration in the health of the pilot during the flight. American manufacturers began to modernize this system due to the fact that several cases of loss of consciousness by pilots during failures of the air supply complex were detected. Whether the problem with this complex itself has been resolved is not reported.
What technology is used in the helmet in the pilot's health control system? In fact, the same one that was used in the USA earlier with some refinement. The system monitors the time during which the pilot's eyes remain closed (for example, when blinking). If the time is higher than the control, then the warning system is triggered, including the notification of the pilot himself.
It has been announced that the "cheapened" and updated helmet of the F-35 pilot has already been tested in flight units of the US Air Force and other countries. At the same time, as with the first versions of helmets, an individual adjustment was made for the pilot.
However, as the United States found out, with a cheaper helmet, in fact, "not everything is clear." Manufacturers are actually silent about the fact that when reducing the price of a helmet, the price of updates that are constantly required for both the flight helmet software and the F-35 on-board systems with which it is integrated is not taken into account. With any on-board software updates, there is a need to update the pilot helmet software. As a result, the cheapening of the helmet occurs only "on paper".
In Norway, F-35 manufacturers were previously criticized in a mild form for not having time to deliver these fighters to the Norwegian Air Force, as it turned out that the on-board equipment package was already "necessary to update" and, accordingly, again paid money for it.
So in the 2015 year the "fitting" of the helmet looked like the pilot of the Norwegian Air Force F-35: