The Dutch Ministry of Defense has decided to completely replace army SUVs. As transmits
"Warspot"
with reference to the armyrecognition.com portal, the Dutch armed forces will transfer from Mercedes to IVEKO.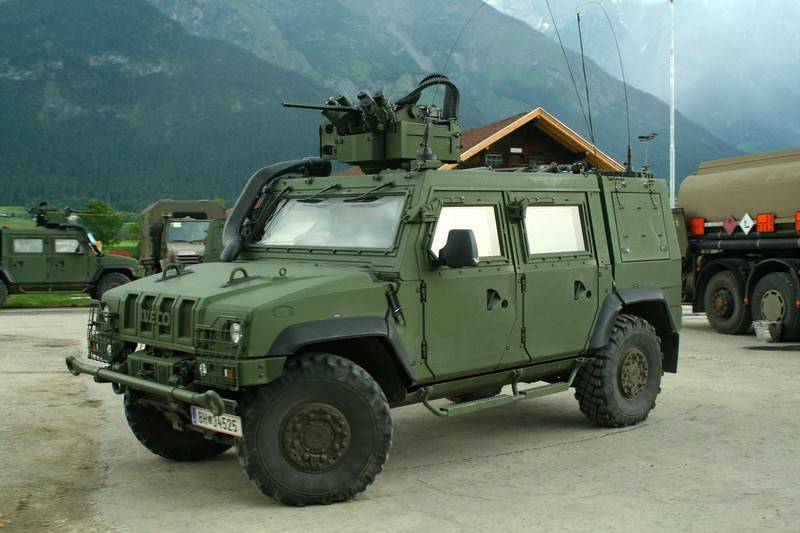 The Netherlands military department has decided to purchase up to 1275 new LMV IVECO SUVs. It is planned that the cars will come in five trim levels, of which four are intended directly for the armed forces themselves, and one for the military police. According to reports, the army will go two types of SUVs with mounted combat modules, a medical evacuation vehicle and a pickup SUV. For the police, a separate version of the LMV IVECO will be supplied, which, of course, is not known.
Deliveries are scheduled to begin in the 2022 year, and the cars will be replaced by the current Mercedes-Benz 290 GD SUVs currently in service with the Dutch Army and Military Police.
Iveco LMV is an army multi-purpose armored car created by an Italian automobile company in 2001, taking into account the experience of operating similar vehicles during the conflict in the Balkans in the 90 years. The mass of the car in the basic configuration is up to 7 t, the maximum speed is 130 km / h, the power reserve is 600 km. It has mine protection capable of withstanding an explosion up to 6 kg of TNT. Armor hull protects the crew from small arms fire
weapons
calibers 5,56 and 7,62 mm, fragments of shells. It is possible to install additional armor.
Currently, Iveco LMV is in service with the armies of 15 countries, including Russia. Under the Minister of Defense Anatoly Serdyukov, it was planned to adopt these off-road vehicles for the Russian Armed Forces under the name "Lynx". In total, it was planned at the first stage to purchase 1775 SUVs with procurement extension plans. However, later on, the Lynx was abandoned in favor of the Tiger.
Today, in the Russian army, Lynx armored vehicles are armed with sappers from the International Anti-Mine Center of the RF Armed Forces, the 98th Guards Airborne Division and military police units.