The world's first floating atomic power unit (PSU) "Akademik Lomonosov" went to the place of operation in Chukotka. The solemn ceremony of sending took place today in Murmansk.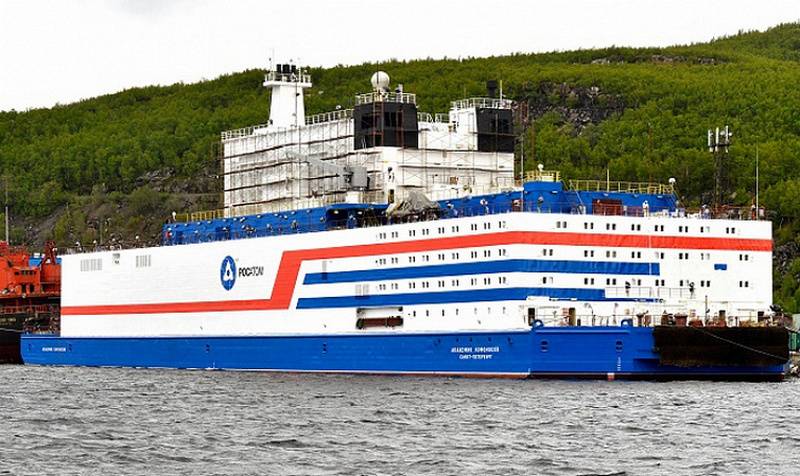 The Akademik Lomonosov PES left the pier of Murmansk and set sail for a long voyage to the Chukchi port of Pevek. Swimming will be carried out with the help of tugboats, which will lead him as if on a stretched string. One tug will pull the power unit, and the other will hold it, providing braking. Next will follow the third, spare tug. It is planned that the average speed of the caravan under favorable conditions will be 4-5 knots (7-9 km / h), and it will take about three weeks to complete the entire route. Thus, in Pevek, "Academician Lomonosov" will be in the second half of September.
The floating power unit "Akademik Lomonosov" of the 20870 project is the head project of a series of mobile transportable power units of low power. Designed to work as part of a floating nuclear power plant for use in the Far North and the Far East. One floating nuclear power plant can provide electricity to a city with a population of thousands of people in 100.
Akademik Lomonosov will be delivered to the port of Pevek, Chukotka Autonomous Okrug, where work is underway to build onshore and hydraulic structures for the nuclear thermal power plant (FNPP), which will include a floating power unit. It is planned that the first kilowatts of FNPP will be issued already in December this year, replacing the retiring capacities of the Bilibino NPP and the Chaun TPP.