The meeting of the UN Security Council, convened at the initiative of Russia and China in connection with US missile development, ended, as expected, with nothing. Representatives of Washington and their allies once again accused Russia of violating the INF Treaty and "other mortal sins." This was told by the acting Permanent Representative of the Russian Federation to the United Nations Dmitry Polyansky.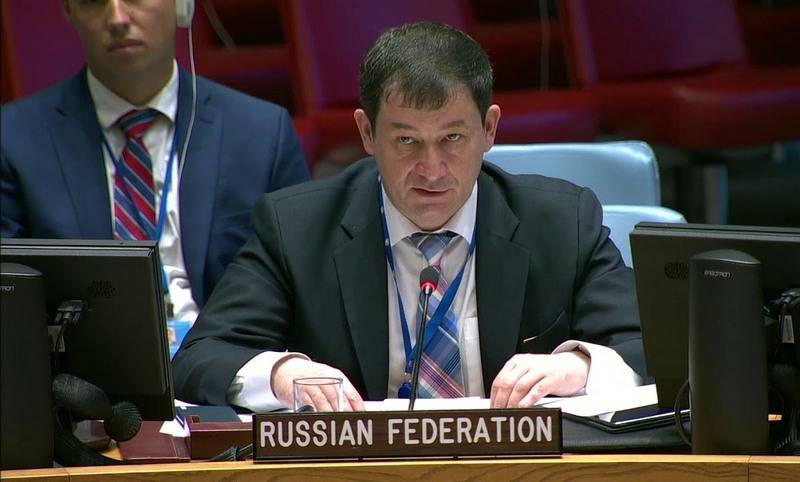 The United States and its allies in the UN Security Council accused Russia of violating the INF Treaty, in particular, again recalling the 9M729 missile. The main accusations were made by the United States, Britain and Germany.
From the United States made and. about. US ambassador to the UN Jonathan Cohen, who accused Russia of owning two thousand non-strategic nuclear warheads and said that "their number will increase significantly over the next 10 years." Stephen Hickey, the political coordinator of the British Permanent Mission to the United Nations, directly accused Russia of "long-term violation", again recalling the 9M729 rocket.
Russia has long violated the INF Treaty by secretly developing and deploying missiles prohibited by the agreement, in particular, the 9M729 missile launch system
- he said.
The representative of Germany also accused Russia of developing the 9M729 rocket.
As the acting later declared Russian Permanent Representative to the UN Dmitry Polyansky, the outcome of the Security Council meeting was predictable, Russia was again accused of "all mortal sins."
In his response, Polyansky said that the meeting was predictable and its results no longer surprise anyone. He stressed that the United States and its allies again shifted their blame to Russia, accusing it of not committing.
I would like to say that today's meeting, unfortunately, turned out to be boringly predictable. As we expected, the United States and grunting countries, contrary to facts and common sense, blamed everything from a sick mind to a healthy one, accusing Russia of all mortal sins
- said the Russian diplomat in his response.
According to him, Moscow is not surprised by the position of the United States and its partners, since they have long lived in a parallel reality created by themselves.
There is nothing surprising. The parallel reality created by our Western partners, where no evidence is required and there are enough unfounded accusations in the spirit of "highly likely", such behavior is considered normal
- concluded Polyansky.