The Peruvian Air Force received the third Su-25 attack aircraft, which underwent a major overhaul and modernization. The plane landed at the air force base of Peru "El Pato" 21 this August. It is reported by TSAMTO.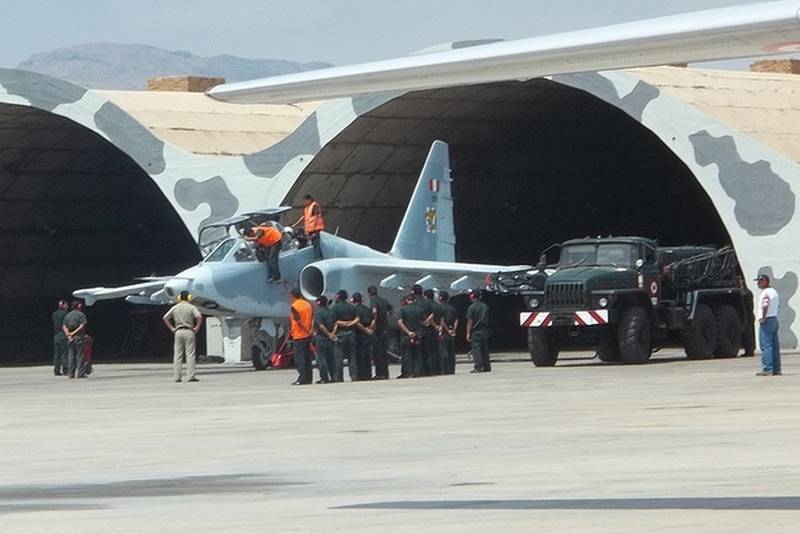 The Peruvian Air Force received the third Su-25 attack aircraft, which was repaired and modernized as part of a joint project between the Peruvian state-owned company SEMAN and Rosoboronexport. According to the command of the Peruvian Air Force, the Su-25UB arrived at the air base after passing the appropriate tests. The aircraft will be part of the 11 air group located at the El Pato airbase in Talara in northwestern Peru.
According to the publication, a total of ten Su-25 attack aircraft (6 Su-25K and 4 Su-25UB) will be restored and modernized in the framework of the agreement concluded at the end of the 2014 year between Russia and Peru. In total, the country's Air Force is armed with 18 aircraft of this type, still of Soviet assembly, acquired in the middle of the 90's in Belarus and partially modernized there.
The Russian side, in addition to repair and modernization of aircraft within the framework of the agreement, supplies brake parachutes, spare parts and technical documentation, as well as carries out major repairs of 20 R-95Sh engines.
The first Su-25K aircraft was returned to service in August 2018, the second, Su-25UB - in mid-March 2019. A fourth aircraft is expected to be delivered in the coming weeks.
It should be noted that in addition to the Su-25, the Peruvian Air Force has MiG-29 fighters of various modifications, Mi-24 / Mi-35, Mi-8 / Mi-17 helicopters.