Constantly threatened by attacks from mainland China, Taiwan continues to rearm at an accelerated pace. Amid previously approved U.S. shipments to island 108
tanks
M1A2T Abrams special modifications, there was information about the start of deliveries to the Taiwanese army of new armored personnel carriers CM-34 Yunpao own production.
The combat module of the armored personnel carrier CM-34 Yunpao
As the
"Warspot"
citing the portal janes.com, the Ministry of Defense of Taiwan announced the start of deliveries to the troops of new armored personnel carriers CM-34 Yunpao ("Smoky Leopard"). In total, by the end of this year it is planned to supply 32 new armored personnel carriers to the armed forces, while the military department expects to supply 284 armored personnel carriers by 2023.
According to the publication, the new armored personnel carrier almost completely repeats the previously adopted BTR CM-32 Yunpao, which has been mass-produced since the 2007 of the year. The main difference from its predecessor is the installation of a new more powerful engine on 450 hp. and a new combat module. The CM-34 is equipped with a two-manned combat module with the 30-mm Orbital ATK Mk 44 Bushmaster II gun. A combat module with an 32-mm gun or an 20-mm automatic grenade launcher was installed on the SM-40. The new car began to weigh 2 tons more.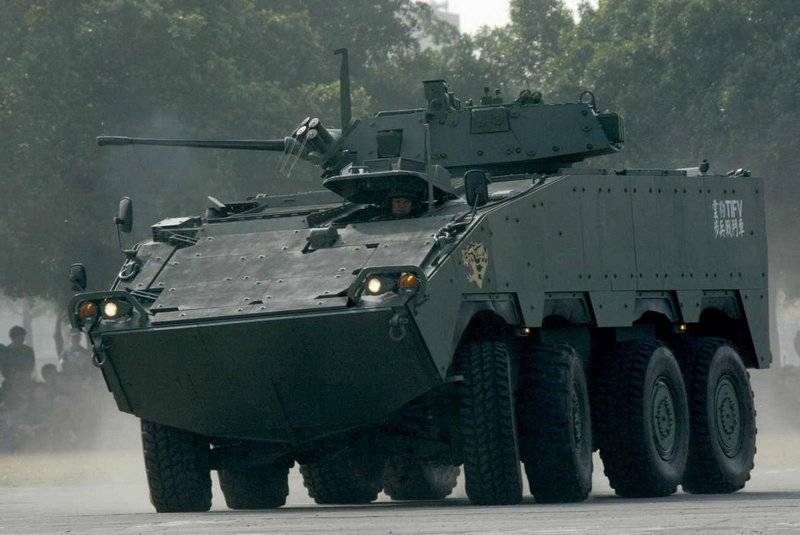 BTR CM-32 Yunpao
BTR SM-32 created by the classical scheme with a front-mounted propulsion system, located to the right in the direction of travel. On the left is the driver mechanic. It was stated that armor in frontal protection provided protection against 12,7-mm armor-piercing bullets, and in other projections - from 7,62-mm armor-piercing bullets. In reality, the 12,7 armor - mm shot "does not hold." The bottom is made taking into account mine protection and has a V-shape. Taiwanese BTR manufacturers claim that mine protection ensures crew survivability when undermining up to 12 kg of TNT under any wheel. Landing - 6-8 people depending on the configuration of the machine.
Earlier it was reported that based on the SM-32 Yunpao armored personnel carrier it was planned to create a whole series of various machines, including a medical one. command, fire support vehicle with 105-mm gun, etc.