The 25 time in the Russian Federation is officially celebrated as the State Flag Day. The date is set in August 1994 year on the basis of the decree of the then President of Russia Boris Yeltsin. And this statement is connected with the decision of 1991 of the year in relation to turning the three-color banner into the state symbol of the new Russia.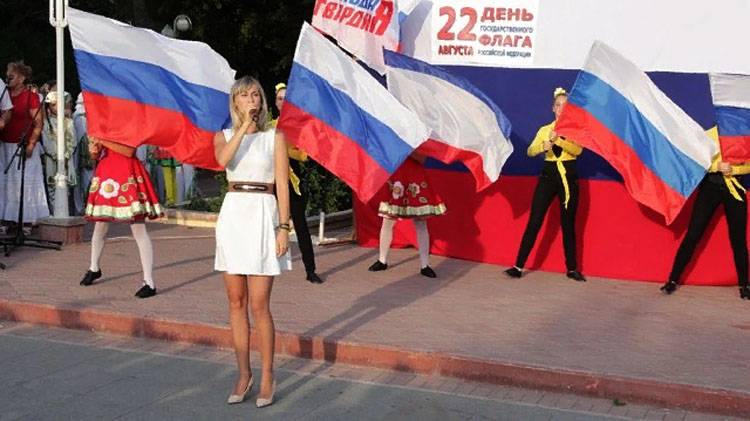 Disputes about why the red-blue-white flag was chosen as the state flag in 1991 (approved in 1993) - against the backdrop of the collapse of the Soviet Union - have not ceased in society. There is also a version that it was proposed to return the black-yellow-white flag - the official symbol of the Russian Empire in the period from 1858 to 1896. However, if you trust the voiced version, the new authorities listened to the opinion of foreign "partners" who stated that "it is better to use a flag that is less associated with the empire." In addition, it was noted that if the black-yellow-white flag had a truly administrative character (hung out at state institutions), then the red-blue-white flag was primarily "commercial and public".
On that and decided.
For over 28 years, the red-blue-white flag has been a state symbol of the Russian Federation, but when it comes to discussing this symbol, not all compatriots (especially the older generation) speak exclusively of it in positive tones. One of the reasons is that the appearance of a new flag (even if it has already been slightly modified over the 28 years mentioned) in our country is associated with the collapse of the once united country, with the name of Boris Yeltsin. And this name is additionally associated with economic turmoil, the war in Chechnya, the riot of the oligarchy, listening to American advisers, strange behavior, etc.
Nevertheless, the tricolor flag is a state symbol, and no matter how many Russians belong to it, the flag has gained respect for the 28 years of the new Russia. It was under this flag that numerous Russian victories in sports were forged, it was on this flag that Russian enemies persecuted, trying to accuse our athletes of doping and prohibiting the use of state symbols, it was under this flag that Crimea and Sevastopol, on the basis of the will of the people, were forever returned to Russia, it was this flag that visited the bottom of the Arctic Ocean under the point of the pole - as a sign of its belonging to the Russian shelf.
And in the end, the matter is not so much in the flag itself as in people who are ready to glorify it with their labor, perseverance and talent - for the good of the Fatherland.