Japan will still develop its own stealth fighter. The government announced its intention to lay the costs of these works in the defense budget for the 2020 year. It is reported
Yomiuri Shimbun
.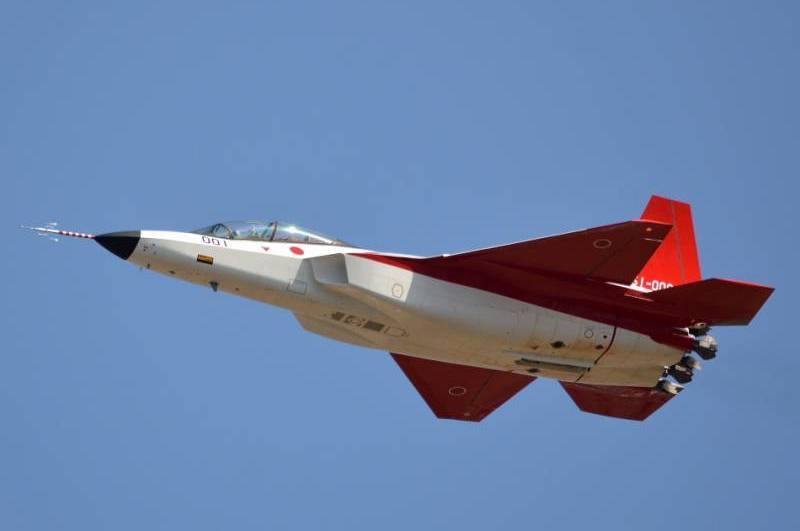 The prototype demonstrator of the promising fifth-generation fighter ATD-X (X-2). 2017 photo of the year
After the 2030 year, the Japanese Ministry of Defense intends to receive a domestic stealth fighter that will replace the F-2 aircraft. According to the publication, the total cost of the project may exceed 1,5 trillion yen (14 billion dollars). It is reported that the development will be carried out jointly with the United States and Great Britain, as independent work can be very expensive. At the same time, Tokyo intends to use its own technologies as much as possible.
According to Tokyo's plans, the development of the new aircraft will use developments from its own program called Advanced Technology Demonstrator X (ATD-X), positioned as a "conceptual model of a promising fighter" of the fifth generation, created to play the role of a "flying stand" in order to develop technologies fighter of the future. The program was developed by the Technical Research & Development Institute (TRDI) of the Japanese Ministry of Defense and Mitsubishi Heavy Industries.
According to preconditions, a new fighter can be built in cooperation with other countries, but Japanese engines and radars, as well as other equipment, should be installed on it. According to the plans of the Japanese military, the fighter should be ready for the 2030 year to replace the 90 F-2 aircraft that entered service in the early 2000's. It should be equipped with cruise missiles capable of hitting ships with high efficiency.
Earlier in Japan, two options for creating a new stealth fighter were considered: in the first version of the work, it was supposed to conduct with the further promotion of its own stealth program, with developments under the Advanced Technology Demonstrator X (ATD-X) program and the second option is to conclude a deal with the American corporation Lockheed Martin, which proposed to Japan a plan to create a stealth fighter, which is a hybrid of two aircraft of this class - F-22 and F -35.