Squad of ships of the North
fleet
led by the frigate Admiral Gorshkov on Monday safely returned to Severomorsk after circumnavigation. This was reported by the press service of the Northern Fleet.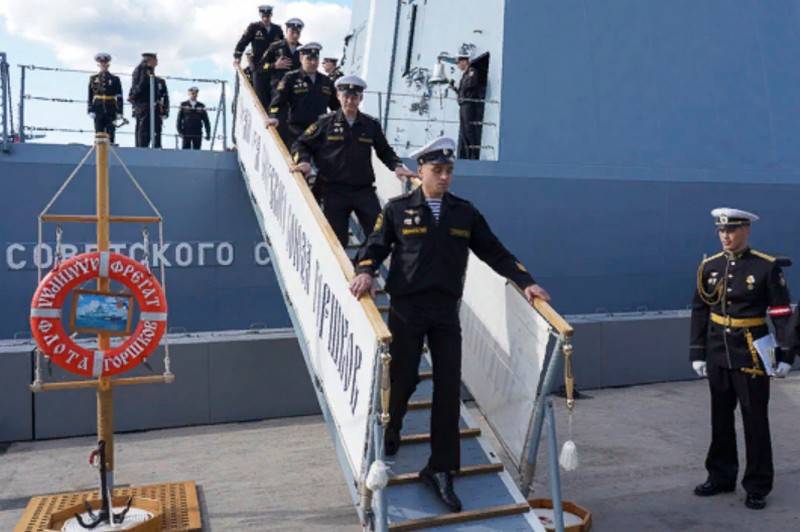 The Russian frigate Admiral Gorshkov, together with the Elbrus multifunctional logistics support vessel and the Nikolay Chiker rescue tugboat, after a long voyage, returned to the main base of the Northern Fleet Severomorsk, thereby completing the voyage around the world. According to data provided by the press service of the SF, on a long voyage, sailors stayed 175 days.
Round-the-world swimming has become an excellent marine practice and a life school for North Sea travelers, as well as a good test for new Russian marine equipment. Frigate "Admiral Gorshkov" and transport "Elbrus" in such a long campaign were the first
- said the commander of the Northern Fleet, Vice Admiral Alexander Moiseev, who met the squad in Severomorsk.
A detachment of ships led by the frigate Admiral Gorshkov went on a long voyage on February 26 from Severomorsk. Since the start of the trip, more than 40 thousand nautical miles have been covered. The frigate, at the head of the detachment, visited the ports of Djibouti, Sri Lanka, China, Ecuador, Cuba and Trinidad and Tobago, Cape Verde. Passed the Suez and Panama canals, crossed the Indian, Pacific and Atlantic oceans, the frigate 8 June crossed the equator in the eastern Pacific Ocean, moving from the northern hemisphere to the southern. The ship participated in the naval parade in China, the Main naval parade in St. Petersburg. He took part in the inter-naval exercise "Ocean Shield-2019" in the Baltic.