The militants in the Syrian province of Idlib, realizing that the SAA could soon take them to the "cauldron" in the Khan Sheikhun area, decided to use the last opportunity to stop the attack of government forces. Resources controlled by the militants began to publish materials on the alleged attack on a Turkish convoy by Syrian air forces.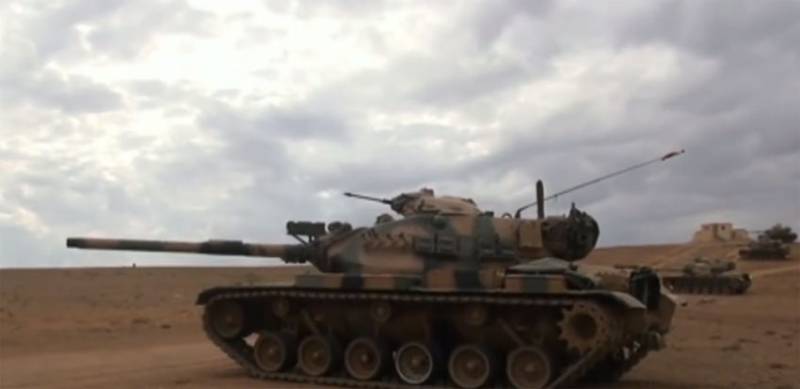 From the notes on Twitter:
Turkish convoy attacked near the village of Khish. Previously, a convoy was attacked from the air near the city of Maaret-en-Nuuman.
It is noteworthy that immediately the statements about the "attack on the Turkish convoy" began to be published by the Western media. So, the German edition
picture
Calling the militants "moderate rebels", he writes that the same "rebels" from the Fileak al-Sham group (terrorist bandit group, banned in the Russian Federation) somehow turned out to be part of the Turkish convoy.
# ACİL: Esed rejimi İdlib güneyine ilerleyen TSK konvoyunu direk hedef aldı. pic.twitter.com/WsJ4Ao7BTj

- Levent Kemal (@leventkemaI) August 19
From the material of the German media:
The video shows the moment of attack. You can see two Turkish low loaders with
tanks
M60, which after an air strike leave the dust cloud. The convoy was heading to Morek, where the Turkish observation post is located.
And this is from reposts in the German media:
The forces of the Syrian regime, without hesitation, shell (and kill) Turkish soldiers who are entrusted with observing the observance of the ceasefire.
The task of such throws from militants is clear: to try to connect the Turkish army to the military operations against the Syrian government. This would allow the terrorists to gain time, regroup and try to break through the "walls" of the "cauldron" closing under Khan Sheikhun.