Serbian Minister of Defense Alexander Vulin invited the head of the Russian military department Sergey Shoigu to visit Belgrade and evaluate the latest achievements of the Serbian army.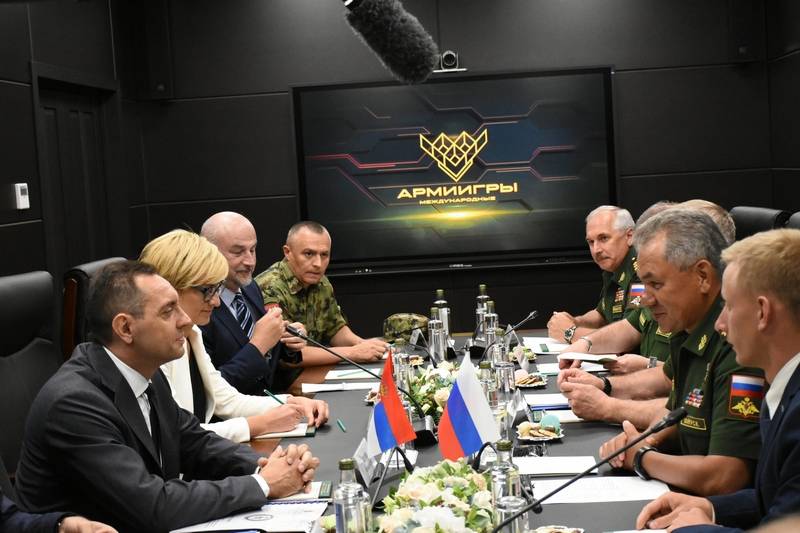 At a meeting of defense ministers of the two countries on Saturday, the head of the Serbian military department gave Shoigu a personal invitation from the President of Serbia, Alexander Vucic, to visit Belgrade and assess the combat readiness of the country's armed forces. At the same time, he said that Serbia is not going to join NATO and will remain a neutral country.
As you know, in the military sense, Serbia is a neutral state, and it will remain so. As long as President Vučić leads the country, she will not be a member of NATO, she will choose her friends and decide what to do. Our President and Supreme Commander-in-Chief Alexander Vucic sends you the warmest greetings and his personal invitation to come to Belgrade, to Serbia, to personally see how the Serbian army advanced ahead thanks to your personal participation, has become more combat-ready
- said Vulin, adding that the more battle-worthy the Serbian army is, the more peace there is in the Balkans.
Recall that Russia handed over four Mi-35 combat helicopters to Serbia, three transport helicopters - Mi-17, 10
tanks
T-72 and 20 combat reconnaissance and patrol vehicles, while part of the military equipment was donated. Earlier, Serbian pilots received 6 MiG-29 fighters. It is also reported that Belgrade has shown interest in purchasing the S-300 and Tor and Buk air defense systems.
Meanwhile, it became known that the Serbian military will take part in the Victory Parade on Red Square on 9 on May 2020. The honorary company of the Serbian presidential guard will be held in the same ranks with the Russian military. The invitation for the participation of the Serbian army in the parade was conveyed by Russian Minister of Defense Sergei Shoigu during the closing ceremony of the international army games.
Defense Minister Shoigu (...) invited President Vučić, as well as our honorary company, to take part in the parade in honor of the 75 anniversary of the Victory. We won together, we must celebrate together. The army of Serbia will be on Red Square on 9 in May together with its Supreme Commander-in-Chief, with all the other victorious states, with all of us who fought against fascism, as representatives of the free peoples that we were then and which we are now
- said the Minister of Defense of Serbia.