The first production "Varshavyanka" under construction for the Pacific
fleet
, left the Shipyard "Admiralty Shipyards" and went on sea trials. This was reported by the press service of the Ministry of Defense.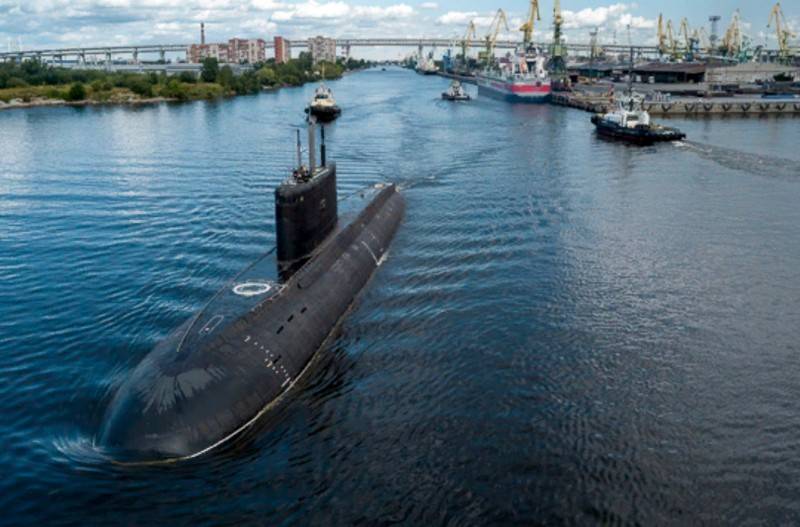 The first diesel-electric submarine of the 636.3 project "Petropavlovsk-Kamchatsky" from the series under construction for the Pacific Fleet, began sea trials. According to the Ministry of Defense, at the first stage, checks will be carried out on the work of some ship systems, including communication systems and hydroacoustics.
The newest Petropavlovsk-Kamchatsky diesel-electric submarine, the first in a series to be built by the Admiralty Shipyards in St. Petersburg for Pacific Fleet, has entered factory sea trials in the Baltic Sea
- it is spoken in the message of military department.
The contract for the construction of a series of six "Varshavyanka" for the Pacific Fleet was signed by the Russian Ministry of Defense and the Admiralty Shipyards in September 2016. The submarine "Petropavlovsk-Kamchatsky" is the seventh submarine of this type, built for the Russian Navy and the first in the series for the Pacific Fleet, laid down on 28 on July 2017 of the year, launched on 28 on March 2019 of the year. The transfer of the Navy was planned before the end of this year. Belongs to the third generation of diesel-electric submarines
The length of the submarine is 73 meters, the width is 10 meters, the maximum immersion depth is 300 meters, the underwater speed is 20 nodes, and the autonomy is 45 days. Crew - 52 person. The submarines are armed with six 533 mm caliber torpedo tubes, mines and Caliber rocket launchers. For subtlety, these submarines were called the "black hole" in NATO.