In the program, Vladimir Solovyov decided to discuss the issue related to the rallies held in Russia, the actions of law enforcement and the reaction to these actions of some Russian and foreign media. In particular, the presenter of the broadcast cited several headlines in the Western press. The British Daily Mail came up with an article in which it declared "thousands of Putin taken to the streets of the Robocops."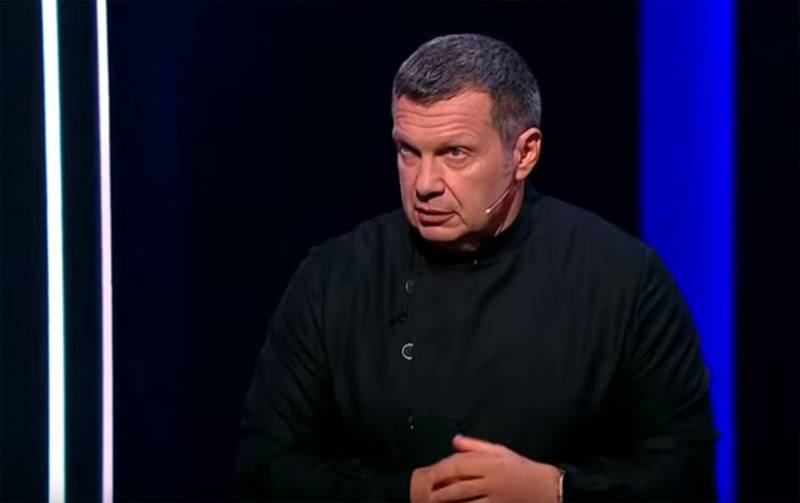 Headline "Voices of America": "Thousands of protesters detained by the 20 anniversary of the Putin regime in Moscow."
Vladimir Solovyov asked those present in the studio why the protest against the decision of the Moscow city election commission to not allow candidates in the West is presented solely as a protest against the "Putin regime"?
Solovyov:
Different people came out to the protest, with different views. And when they try to expose all these people as opponents of Putin, to put the Procrustean bed in this, they play a bad joke with these people.
According to the host of the program, it is impossible to believe that this is a true protest of Muscovites when slogans suddenly appeared at the same time on Deutsche Welle, the Voice of America website, calling for them to come to a protest rally.
Solovyov:
Is this not an interference in internal affairs?
Turning to the Ukrainian expert:
So, this is not Kiev for you! We will not give up our country, our city! Any change of power should take place in accordance with the law, with the procedure. The phrase "We are power here" will not pass. The power in Russia belongs to the whole people, and not just those who go out and yell.